Academics' Choice Award™ Winner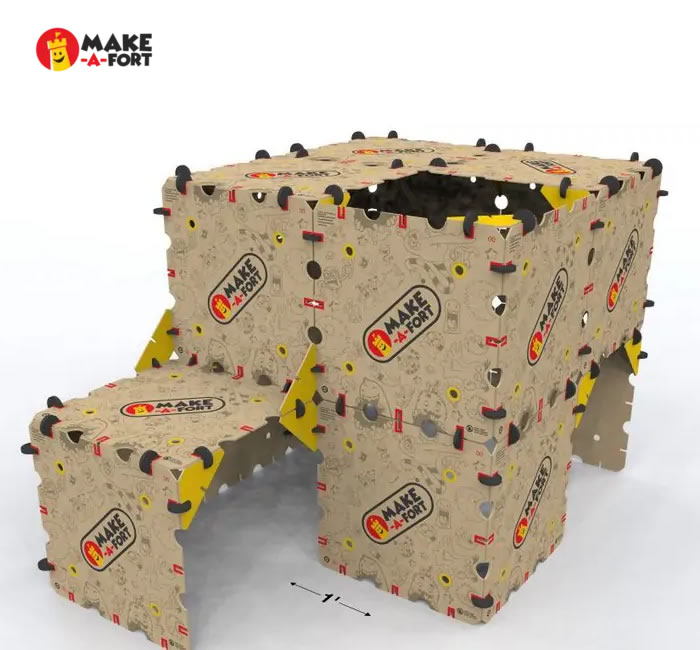 Make-A-Fort Build Kit
Ages: 4 and up
Price: $77.00
Type: Toy, Arts & Crafts, Gear & Equipment
By
Make-A-Fort
Description
Parents will never hear "I'm bored" while the kids are home for the summer once you show them the Make-A-Fort Build Kit. Open up and unpack 18 sturdy cardboard panels, 10 braces, 80 connectors and a handy carrying case. What happens next is totally up to the imagination of each child. A maze? A mansion? An igloo? Whatever they design, feel good about them playing inside for hours of their just-built creation. Kids of all ages will quickly forget about any amusements needing a gadget, cord or Wi-Fi!

Review Highlights:
Make-A-Fort brings back creative, open-ended playtime for children. Rather than spending hours on tablets, children can design their own fort and bring their imagination to life! This sturdy yet light cardboard can be used over and over again, and when the kids are done it can be easily stored. There are step-by-step instructions online for different fort builds, or children can make up their own designs. The fun is endless!
My family loves pulling out Make-A-Fort, especially on the rainy days as an alternative to screen time. My four year old and six year old have had so much fun using this to build dungeons, rocket ships, castles - anything they can think of. I was surprised by how strong the material is; it's six times stronger than regular cardboard so it can easily hold blankets over it to add to the fun. They learn to share their ideas and work together to create some pretty amazing forts, and it gives them something fun to do for hours at a time. Totally recommend!
I liked that it's an open-ended product for children. It provides hours of screen-free fun for children!
Children practice problem solving, creative play, arts and crafts, hand-eye coordination, and fine-motor skills. They also build confidence and boost their imaginations!
Buy this product at:
As an Amazon Associate we earn from qualifying purchases.