Academics' Choice Award™ Winner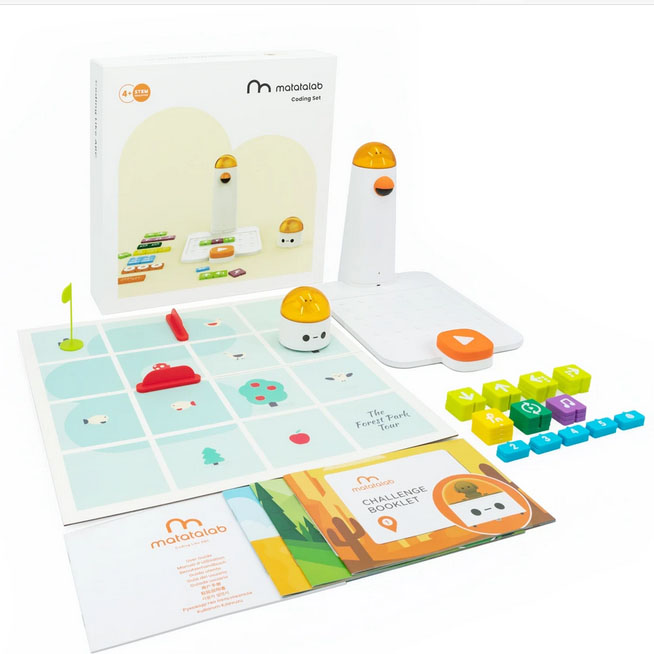 Matatalab Coding Set
Ages: 4 and up
Price: $169.99
Type: Toy, Game, Electronics, Gear & Equipment
By
MATATALAB CO., LTD.
Description
Matatalab Coding Set is an Entry-level hands-on coding robot set for age 4 and up. It provides excellent activities created by STEAM education experts to guide kids to develop an interest in coding and stimulate their creativity by starting their first coding project.

Matatalab robot sets follow the kids' cognitive development from concrete to abstract and adopt simple symbol design to let kids understand coding and computational thinking through fun yet challenging game quests. By using easy-grip coding blocks, kids will learn to code without a screen or keyboard. With several sets of adventure maps, kids are challenged to find different ways to explore the adventures. As they progress from easy to advance level, kids learn and use new coding concepts step by step. Kids can collaborate with their friends or compete with them to complete the challenges.


Review Highlights:
Start your coding journey with the Matatalab Coding Set. It's a powerful educational toy that will impress your budding programmers while teaching them not only the basics of computational thinking but many preschool/kindergarten readiness skills such visual-spatial skills, directionality, sequential and conditional reasoning, pattern recognition, patience, perseverance (grit), deductive reasoning, logical thinking skills, and problem-solving.
Initially, you will have to charge the command tower and the robot, but they charge quickly and hold a charge for a long time. The instructions were easy to understand but an adult definitely needs to help at first. Matatalab does not require an app or smart phone, which is nice as we don't allow our child to use a tablet/phone at this age. The coding blocks are easy to handle by little hands and include directional arrows, turns, and other functions. There are even music and dance blocks. Students simply place the coding blocks in sequence on the control board and then hit the play button to watch the robot go. It's intuitive once children get the hang of it and the booklet, obstacle walls, and adventure maps make it a highly reusable toy. It's been weeks and our children are still playing with it!
Buy this product at:
As an Amazon Associate we earn from qualifying purchases.