Academics' Choice Award™ Winner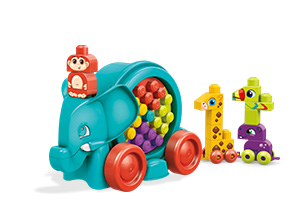 Mega Bloks Elephant Parade
Ages: 1 - 5
Price: $29.99
Type: Hands-On Toy
By
MEGA Brands Inc. (Mattel)
Description
Tumble into playtime with a friendly elephant and a buildable animal parade!

Roll out adventure from trunk to tail when you build with a friendly elephant and a parade of colorful animal friends! Pull the elephant to make the building blocks spin inside the big, rolling tumbler. Then, open the tumbler and use the lid as a building plate to build a hippo, monkey, toucan and giraffe, matching each animal to the right color. Connect the animals together behind the elephant and pull them all along on their rolling wheelbases to create an animal parade! When the parade goes home for the day, cleanup is quick and easy when you store everything away inside the tumbler bin!

Ideal for ages 1 to 5

Features:
•Rolling elephant pull toy with spinning block tumbler
•Buildable hippopotamus, giraffe, monkey, and toucan
•25 pieces include building blocks and special parts
•Comes with 2 rolling wheelbases
•Tumbler lid doubles as a building plate
•Learn through color association
•Connect animals together to build a parade
•Tumbler opens for building block storage
•Perfect for little hands
•Hands-on play for early childhood development
•Combine with other Mega® Bloks preschool toys and build them up!


Review Highlights:
Mega Bloks Elephant Parade is a new twist on a classic construction toy that offers open-ended opportunities for young children to design and create in a semi-structured way to quickly gain a sense of achievement. The creative play product develops creativity, problem solving, classification skills, and critical thinking.
We love that all of the MEGA Brand Bloks can be used together, no matter what set you buy. Mega Bloks Elephant Parade was a great addition to our existing set. It offers significant cognitive and academic benefits. Not only are they fun and engaging, but they help kids develop a wide variety of skills such as classification of colors (loved the colors), shapes, sizes, and types of animals (elephant, hippopotamus, giraffe, monkey, and toucan). The blocks develop and improve hand-eye coordination, fine and gross motor movements, and social relationships with others as children share, discuss, and solve problems together. The blocks can also be used to learn and practice math skills by grouping/matching, sequencing, adding, and subtracting. My kids loved the parade aspect, which really pulls it all together, but make sure to explain that real elephants don't have wheels. :)
Buy this product at:
As an Amazon Associate we earn from qualifying purchases.