Academics' Choice Award™ Winner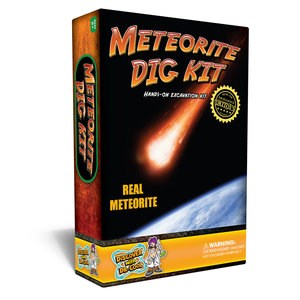 Meteorite Dig Kit
Ages: 6 and up
Price: $11.99
Type: Hands-On Toy, Game
By
Discover with Dr. Cool
Description
A dig kit thatís literally out of this world! Excavate a real meteorite from outer space, as well as a real tektite (the impact glass formed when a meteorite smashes into the earth). Both are buried inside our meteorite-shaped digging brick. This hands-on kit includes a digging tool, brush, magnifying glass, and a wonderful full-color information guide (written by teachers) so you can identify and learn about each specimen. An activity booklet with 10 fun games, puzzles, and challenges to complete makes this a must-have gift for the rock hound or treasure hunter in your family!
Review Highlights:
The Meteorite Dig Kit develops scientific inquiry via hands on learning and exploration. Children work hard to dig out a REAL meteorite to then look at, touch, and study. The Adventure Guide and Activity Book support the activity with information and comprehension building questions and games.
We enjoyed the hands on aspect of the product. My child was also impressed and excited about the fact that he was a able to dig up (and now hold in his hands) a real meteorite!
Buy this product at:
As an Amazon Associate we earn from qualifying purchases.