Academics' Choice Award™ Winner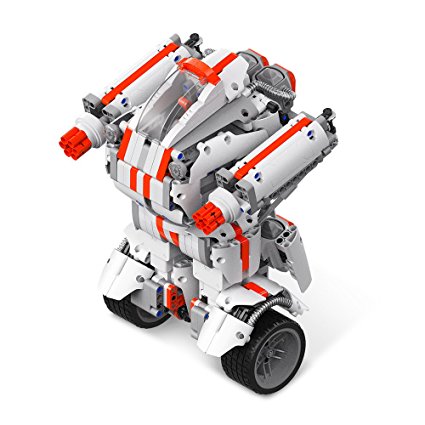 Mi Robot Builder
Ages: 10 and up
Price: $139.99
Type: Toy
By
Beijing AIQI Technology Co., Ltd.
Description
Mi Robot Builder is a modular coding toy that can be assembled into different structures using 978 toy blocks including parts like wheels, gears, and chains to make it come to life.

1. 3 controlling modes including path, handle, and graphic programming, which inspire kids' curiosity, creation and exploration. Kids can feel the fun of building as well as the sense of accomplishment for mastering the robot.

2. 978 bricks made from safe materials, combined with sophisticated mechanical transmission structure to ensure effective movements and actions.

3. 3 different models to build with this set: robot, dinosaur and airplane.

4. Great STEM education tool for 10+ years old kids. Easy but not simple to assemble and program, so it creates a perfect chance to encourage teamwork and collaboration with friends or family.

5. It is a pioneering in the world that Mi Robot Builder is directly using the sensor of your smart phone. This creation and breakthrough lead construction toys to intelligent area.

6. The chip of 6 axis of gyroscope installed inside the controller, is developed through a series of balanced algorithm for controlling the running of two wheels, so that the robot can reach its self-balanced.


Review Highlights:
An amazing robot that should do well in the US market. If your child has grown out of Legos, Mi Robot is a great way to keep them building! My 11-year-old boy put this together in a few hours. There we 978 blocks to assemble! We had so much fun driving it around the house!
My daughter and I had a great time building the Mi Robot. I believe that the Mi Robot is well within the price range of other construction sets (such as Lego). The presentation, near flawless instructions during construction, and the promise of what was to be was really compelling, and had us all really excited. Building the Mi Robot was a lot of fun for the whole family. The design is complex, and took several nights to build. This was great as it gave my daughter and I time together engaged in a task that we both enjoyed. My husband would join us, as well as my son. It was easy to see where we had left off, and what the next step was. The step-by-step instructions within the 140+ page manual were easy to read and understand with only a few exceptions. I loved how the instructions clearly showed a comparison between what was right and what was wrong during some of the steps in which it was vital that two items be joined in a very specific fashion. I also like that there are multiple sets of instructions to allow a user to choose which robot design that they want.
The app had several ways in which one can drive the robot through the house or out in the community. Programming the robot through a language similar to scratch was also available and something my daughter has had experience with through homeschooling. This is a feature that she could sit down with for hours and create her own set of instructions for the robot to follow. This is a really nice tool to show young people that programming is within their skill set!
We are always looking for ways to help our children learn valuable skills in the areas of math and science. This is a wonderful way for our children to exercise these abilities. From problem solving and critical thinking, to development of their creation this is something that provides so many opportunities to learn and grow skills. My boys, who are 8 and 12, spent most of their day reading and building this robot the moment it arrived. This not only encouraged them to work together, but to be creative at the same time. And in the end they even got to do some computer programming of their robot. The skills that are learned and practiced with this are so valuable in today's world. Since understanding and knowing how to manage and use various forms of technology is so important for our kids today this was certainly something that they gained a great deal from. And they can of course continue to learn and grow too building their own robots, as they imagine them to be, and then programming them to do all sorts of things. This also comes with a thick book of building instructions to help get those creative juices flowing.
There were different options for them to build. There are hundreds of blocks that come with this so if they can imagine it they can definitely create it. Unfortunately they can only build one and then have to dissemble it in order to build the other but it kept them busy for many hours as they built and then worked with their robot to program him. My boys are great lovers of building and they love legos. This is just like that except programmable. This kept both of my boys engaged for quite some time! The possibilities really are endless. We never heard of smart control before - amazing how it could correct itself as it moved about. It never toppled over on us once and my boys sure had it going all over the place. This has an amazing battery life too - we could not believe how long this kept going!
We are absolutely thrilled with this! My boys both love all things robot - having the chance to build their own with lego style blocks and then be able to program it themselves, has been such a treat. My boys are both using this to complete their scout badge in robotics so that is another big bonus. While it says it is for ten and up - my younger son (he is eight) had a great time with this too. Working with his brother they really had fun and learned a ton. It certainly helped them bond a bit too!
Buy this product at:
As an Amazon Associate we earn from qualifying purchases.