Academics' Choice Award™ Winner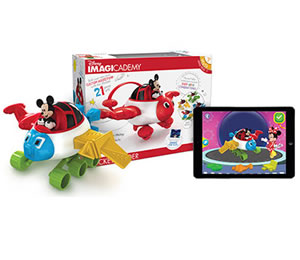 Disney Imagicademy's Mickey's Rocket Builder
Ages: 3 and up
Price: $39.99
Type: Toy, Mobile App
By
Disney
Description
With Disney Imagicademy's Mickey's Rocket Builder smart toy, children can build and customize their own rockets in the physical and digital worlds! Compatible with the "Mickey's Magical Math World" app by Disney Imagicademy, children can customize their real-world rocket and add it to their digital rocket collection within the app. Children are exposed to early shape recognition and counting skills, as they explore oval, triangle, square and circle-themed rocket parts tobuild their rocket. Mickey guides each mission, and action buttons on the rocket trigger sound effects associated with various rocket combinations.

Review Highlights:
The Disney Rocket Builder was fun - I think my child was able to interact easily because of his early Lego abilities. He seemed to enjoy taking it apart and changing the wings, rockets and landing bases. The toy is sturdy and the colors are bright. Mickey had a lot of different programmed messages inside to keep him smiling. My son let his imagination run wild as he flew it around the house for a while after building. We then hooked it up with the Disney Math app. I was blown away! The app recognized the pieces and we were able to build our Rocket and see it on the screen. Then it brought us through other building and flying adventures. I do like how open ended the app is in terms of user experience. We go could any where on the app and it'd be fine or just play with the rocket ship without the app. This toy/app experience was amazing and my son had and is still having a wonderful time with it. Thank you!
Buy this product at:
iTunes App Store (for Math app to use with Rocket)
As an Amazon Associate we earn from qualifying purchases.