Academics' Choice Award™ Winner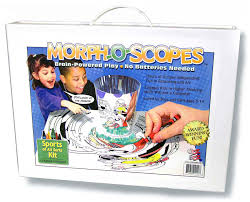 Morph-O-Scopes Sports of All Sorts Kit
Ages: 5 - 14
Price: $19.99
Type: Toy, Arts & Crafts
By
OOZ & OZ llc
Description
The Morph-O-Scopes Sports of All Sorts Kit is a fun, arty science toy inspired by a centuries-old optical illusion device (the anamorphoscope) used by Renaissance artists and spies to hide secret images in plain sight. The device consists of two parts: unrecognizable, twisted pictures (the morphs) and a mirrored cylinder (the decoder). When the decoder is positioned just right within a morph, it untangles the warped picture and reflects it as a normal image "mirror-aculously".

Morph-O-Scopes boast a variety of anamorphic hand-eye challenges to pull in today's tech-savvy kids and keep them engaged, independently, for hours. Left-brainers love figuring out how morphs are made! Right-brainers love our twist on coloring! There's connect morphed dots, complete morphed pictures, navigate morphed mazes, create a morph and more, plus our totally mind-messing 4-Dot Challenge – a snap for some five year-olds that utterly stymies some adults. No batteries needed! Not too easy. Not too hard. And definitely not boring!
Review Highlights:
This anamorphosis coloring kit is magic before my children's eyes. They loved trying to guess what the picture held before holding it up to its curved mirror reflection. The predicting held so much learning and fun. We reviewed the ancient use of the anamorphoscope and talked vocabulary, re: morphing and un-morphing using drawing and mirrors. This kit kept my children ages 4 and 7 coming back for more. Also, allowing several students to use this product at once adds to the power of observation and investigation, which really gets the whole class involved, thinking, and having fun. Can't wait to share with my teacher friends. The packaging is also very well thought out. Each box is like its own little desk.
Buy this product at:
As an Amazon Associate we earn from qualifying purchases.