Academics' Choice Award™ Winner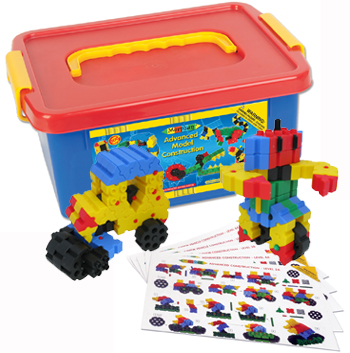 Morphun Advanced 500 Construction Set
Ages: 5 - 9
Price: $99.95
Type: Hands-On Toy
By
Thinkplay Ltd. T/a Morphun Education
Description
The Morphun Advanced Construction range is targeted at ages 5+. This newly released set has 500 pieces, stored in a colorful and robust storage tub with a clear window. It is supplied with 5 x A3 sheets of models, as well as our new "Advanced Guide Book" which has 60 pages packed with exciting shapes and models, plus a CD with games and more models to make. The side joining squares, triangles, joiners, and wheels allow hundreds of models and shapes to be built, providing months of constructive activities in the classroom or at home. The Morphun Brick was invented in 1996 and our square bricks are compatible with traditional mid-size bricks but extend the scope and range of the models that each set can make because Morphun has added dozens more ways of joining the bricks. The original square bricks could only be joined sideways, but by simply adding a triangle brick, it became possible to make many more shapes using the same number of pieces. Your young builder can now make circles, curves, spirals, and gears that remain impossible with traditional sets. Manipulatives and construction toys are widely accepted as an essential feature in any program to develop creative play, fine motion skills, hand-eye coordination, and problem solving skills in children. Morphun Advanced Construction systems allow hundreds of models and shapes to be built following incrementally difficult instructions in the pictorial instructions sheets and in the "Guide Book". With even more available in the accompanying CD and on free download from the company website at www.morphun.com This toy offers terrific value as there are activities here for a class that will last the whole semester and in your home for many happy and challenging years!
Review Highlights:
Morphun's Advanced Model Construction Set hosts a wide variety of cognitive benefits for children: motor skills, hand-eye coordination, creative/divergent thinking, spatial skills, and social skills (when building with others) as well. My third grade students immediately began building and constructing objects with no questions about how to start. It seemed so natural; children stayed focused, engaged and happy. Bridges, monsters, ships and cars were made after less than an hour of play. Once done with their project, children openly discussed their creations, what problems they may have come across, and how they fixed the problem. We also discussed how and why they made it. What a perfect lesson for the day.
Without a question in my mind, I recommend Morphun's Advanced Model Construction Set. These blocks are brilliant. I hope to review more products by this company.
Buy this product at:
As an Amazon Associate we earn from qualifying purchases.