Academics' Choice Award™ Winner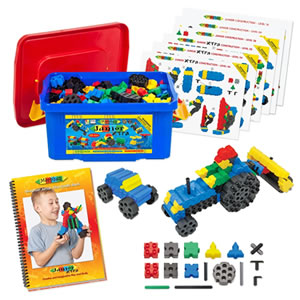 Morphun Junior Xtra 400 Set with Guide Book
Ages: 4 - 8
Price: $75.00
Type: Hands-On Toy
By
Thinkplay Ltd. T/a Morphun Education
Description
Morphun has an award winning construction system, with great creative and fun value and outstanding educational uses. A wide range of instructions and teachers materials are provided to support each product.

The Construction systems are age banded and we have just launched some new sets. Morphun are pleased to add to Junior our new Junior Xtra sets with their own exclusive unique Xtra direction changers, the "T" and "r" piece. These allow you many new ways to increase the ways to join pieces, leading to more creativity and even more models from each set.
Review Highlights:
Lots of skills are practiced using Morphun's construction set including creative play, problem solving, and deductive reasoning. Kids are also introduced to basic geometry, engineering/architecture.
The product is innovative and different, durable, and stays together well with the unique interlocking design. All three of our kids enjoyed playing with them and they range from ages 4-8. The instruction sheets and book were great for examples. The storage box is quite durable too.
Buy this product at:
As an Amazon Associate we earn from qualifying purchases.