Academics' Choice Award™ Winner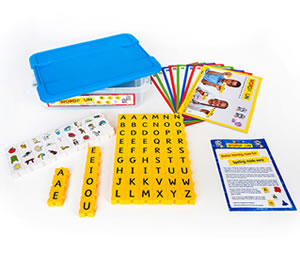 Morphun Wordphun Upper/Lower Case Letters with Pictures
Ages: 3 and up
Price: $39.00+
Type: Hands-On Toy, Book, Game
By
Thinkplay Ltd. T/a Morphun Education
Description
Morphun's Wordphun games make learning letters just plain 'More Fun'!

Based on the now familiar side joining brick from our construction games, our cursive script letters sets will add interest and focus to everyday class activities and are very adaptable to meet a variety of class needs. Sets are supplied with a pack of 12 class activity sheets with 10 main activities, all designed to meet the needs of the curriculum. Exercises start from the earliest stages of reading and include rhyming, matching, word beginnings, word endings, sounds and sentences, to initial phonics.

Newest addition to every Wordphun set is FREE access to our on-line Wordphun game. Each set will be supplied with an authorisation code which can be used in two ways: In the classroom, you can activate the game for one year from 1st registration and for up to 24 students. At home, you can activate it for 4 years and for up to 6 children.
Review Highlights:
My son loved using the blocks because it was a different way to spell words. Instead of writing the words over and over he was able to put the pencil down and have fun interlocking the blocks to spell words. I think because he enjoyed using the Morphun blocks his attention with how to spell the words was heightened thus cementing the word to memory. The Morhun Wordphun blocks are also a fun way to learn the alphabet. I had the younger children use them to practice alphabetizing. I think what really made it fun was the way the Morphun blocks linked sideways. The kids are not only learning the order of the alphabet but using hand-eye coordination and fine motor skills.
As a homeschooling mom of 6 I loved the hands on aspect of Morphun Wordphun. These work well with wiggly boys (I have 5). The bricks are a bright yellow with an easy to read black font. The interlocking of the bright colored bricks are just the right size for little hands. The bricks are sturdy and will last through years of use and with 6 kids that's something I'm always looking for. We loved how the bricks interlock sideways! That was a new one for us.
What is great about Morphun Wordphun is they are not just for young kids but the older ones enjoy these as well. I had my 11yr. old son use these to spell words from his spelling program or when he came across a difficult word. He'd practice putting the word together and breaking it apart in syllables. I believe the hands on of the blocks helped cement the harder spelling words to memory! Morphun Worphun bricks made spelling time more fun and enjoyable. Having the bricks to touch, feel, and move around was a lot more interesting then writing the words.
I loved the sturdy storage case that the Morphun Worphun bricks came in. I didn't have to look or buy something to put them in. Moms like things like that, it just makes life a little easier. Wordphun letter bricks are a sure way to add fun back into spelling, alphabetizing, and word-building!
Buy this product at:
As an Amazon Associate we earn from qualifying purchases.