Academics' Choice Award™ Winner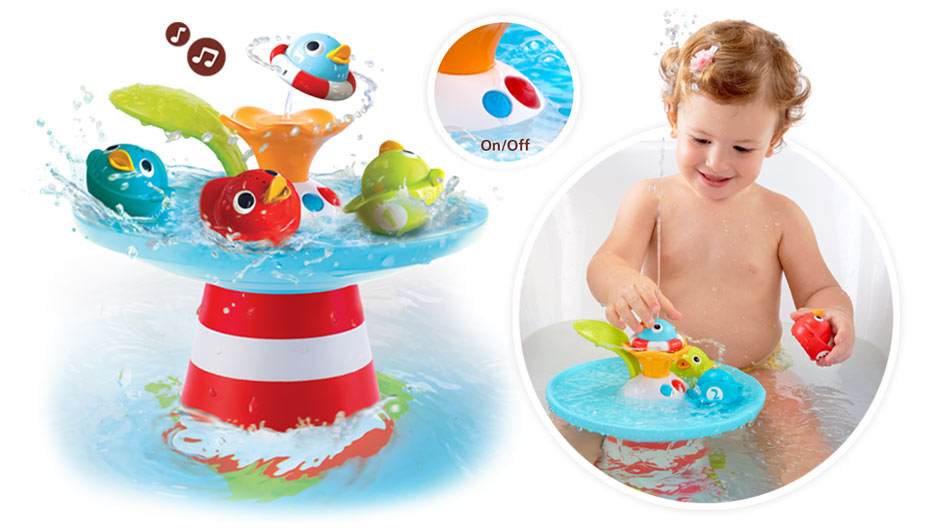 Musical Duck Race
Ages: 6 - 36 months
Price: $34.99
Type: Toy
By
Brilliant Products Intl
Description
Four fun duckies race 'round and 'round this award-winning, battery-operated, musical bath toy that draws water from the tub and creates a unique fountain and race track. Features four mischievous ducks that magically chase each other around an amazing water display while cheerful music plays. Each duck features a unique different water spraying effect and the leaf lever activates 9 random sound & water effects. Automatic shut-off after 3 minutes. Developmental benefits include: learning through sensory play, introduction to cause and effect processes, eye-hand coordination and fine motor skills development.


Review Highlights:
My daughter struggles with speech and the Musical Duck Race has worked great in encouraging her to use words and practice speech skills. We used it to work on colors, numbers, manners, and words like off and on. I liked how it let her practice cause and effect and experiment with the different ducks and their spray patterns.
The toy was engaging and interesting and fun! We've used it several times and each time the kids have not wanted to leave the bath. It's a great distraction and was a fun way to practice speech therapy skills that felt like play, not speech practice. I liked the colors and numbers and many different words I could work on with this one toy. I think it is one that will be played with for a long time.
This is a very unique toy! It was easy to set up and ready to use in about 5 minutes. I worried about the batteries in the water, but we've used it quite a few times and it seems just fine.
Buy this product at:
As an Amazon Associate we earn from qualifying purchases.