Academics' Choice Award™ Winner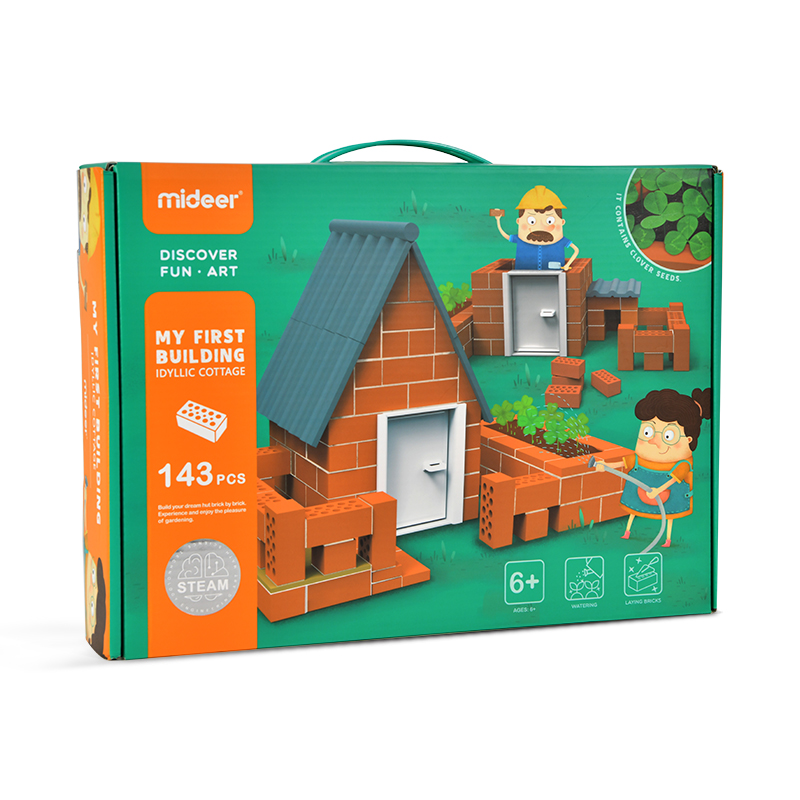 My First Building: Idyllic Cottage
Ages: 6 and up
Price: $14.85 USD
Type: Toy
By
Ningbo Mideer Toys Co., Ltd.
Description
My First Building - Idyllic Cottage is a fun and STEAM educational toy that enables children to build structures and enjoy gardening. This toy helps kids develop their spatial skills and hands-on ability. With a detailed instruction manual included, children can build houses based on the models or their own ideas. This kit includes a packet of soil and a packet of seeds. Just add some soil into the planting trough, then sow the seeds and water it, to create a beautiful garden. The toy bricks are made of clay, the same as real bricks, to ensure a realistic tactile experience. In addition, we use natural and edible starch as cement to stick bricks together. After the house is built, just soak it in water for 2 hours and make starch dissolve in water, to separate the bricks which can be reused all over again.


Review Highlights:
This building kit is perfect for kids that enjoy building. It is extremely well-thought out, very creative, and I love that you can re-use it! I liked that everything was included - the tools and mortar, a building layout, even seeds for planting a garden.
Different than other building kits, this one has a "cement" that you use between the bricks to build the cottage. It's more time consuming than playing LEGOs, but the result is a lot more detailed and interesting. Construction toys are great for spatial awareness, hand-eye coordination, planning, patience, geometry, and other useful skills. If you want something different than traditional LEGOs, this product would be a good one to try.
Buy this product at:
As an Amazon Associate we earn from qualifying purchases.