Academics' Choice Award™ Winner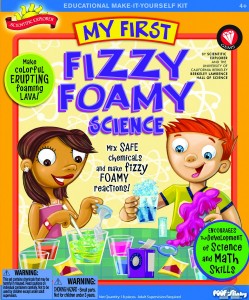 My First Fizzy Foamy Science
Ages: 4 and up
Price: $23.99
Type: Toy
By
Scientific Explorer
Description
Children young and old will enjoy mixing safe powders to create solutions that foam and fizz. What makes soda pop, pop? Bread rise? These are some of the questions answered as young scientists measure, predict, and investigate using safe chemicals and common household materials. 7 science experiments are included in this kit that utilize hearing, seeing, touching, and smelling. This My First Science Kit was based on the Great Explorations in Math and Science (GEMS) program which was developed at UC Berkeley's Lawrence Hall of Science.
Review Highlights:
This is a great multi-sensory kit. A wonderful introduction to chemistry and the scientific method. It took a bit of hand holding throughout the experiments but it was very easy to get started. As a parent I liked that I didn't have to search through my cupboards for all the necessary components.
Buy this product at:
As an Amazon Associate we earn from qualifying purchases.