Academics' Choice Award™ Winner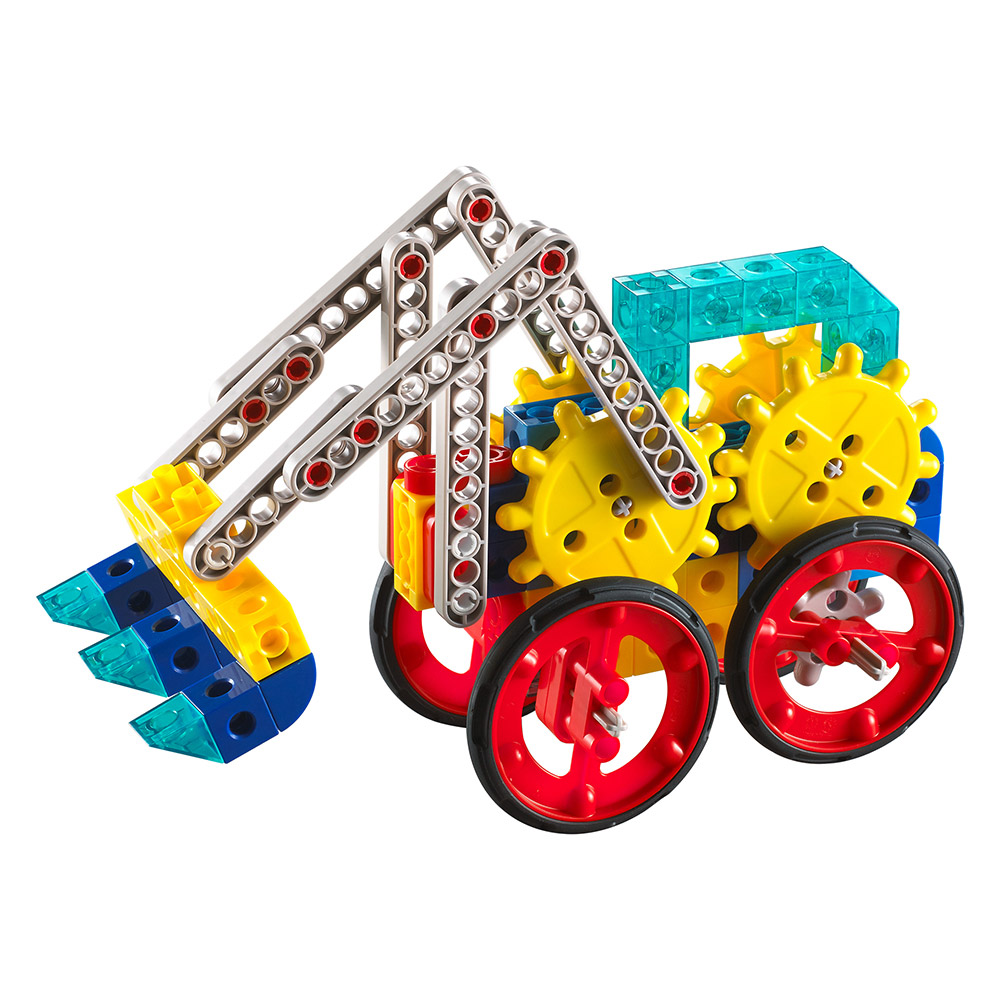 My Gears® Transport Set
Ages: 6 and up
Price: $29.99-49.99 USD
Type: Toy
By
Edx Education Co Ltd
Description
One of the many exciting additions to our STEAM Education ranges is the new My Gears® collection, which has been inspired by our play philosophy: 'Play, Learn, Create'

The My Gears® construction kits provide hours of engaging hands-on learning, and are perfect for developing early engineering skills, encouraging creative thinking, curiosity and problem solving, while also developing fine motor skills. As with all our collections, the new ranges have been designed to support both classroom and home learning play. The Gears are compatible with the 2cm linking cube sets from Edx Education. (Which can be found in many classrooms)

Our junior engineers learn to understand the basic principles of Gears while building the fun models with easy to follow instructions booklet. Multiple construction possibilities for kid's to develop their problem solving and creative thinking skills through play.

Wheels turn and gears move, create moving cars, bikes a tractor and so much more with the Transport Gears.

Children have fun learning the basic principles of movement and force. Create and explore by linking several Gears together with the chain to create unique and amazing machines that inspire young minds! Open ended educational toy for young minds to explore their creativity while developing key problem solving and critical thinking skills.

Our home learning sets are packed with activities to keep children engaged, encouraging creative play, problem solving, the development of fine motor skills and critical thinking.


Review Highlights:
My Gears® Transport Set is an excellent STEM toy, perfect for so many ages. My kids love it!
I applaud the multidimensional and open-ended learning opportunities presented with this toy. Students can follow the designs available in the book and also design with their own ideas - and also make designs that move!
The My Gears set provides excellent practice in following directions, critical thinking, and spatial awareness. The instructions to build the models are all in picture format, so children learn to look at the picture, envision the piece and the placement in their minds, and then make it happen physically. If the pieces aren't placed correctly, the model won't come together correctly. My children learned to figure out where they made a mistake, how to fix the mistake, and patiently try again. The finished product shows moving gears and parts that are interconnected so there is a lot of satisfaction when the model works as it should at the end of the building process.
As soon as the box was opened, my children immediately sat down to start building. They were engaged with the attractiveness of the product and the intrigue of building something that was so intricate. They have now built all 8 of the models that came in the package, and they are still interested in building them again. The models are challenging but not too hard for them to figure out on their own, which has helped them work on their problem-solving skills. I love that they are developing an awareness of engineering and cause-and-effect. After they complete the model, they can play with the model itself and use their imaginations to create worlds where each model is useful.
I love toys like this that ignite curiosity in my children. This My Gears set engaged them creatively and cognitively. One night my son seemed restless and said he wanted to create something or make something. Then the box caught his eye so we sat down together to build one of the models. It was such an unexpected mother-son bonding moment and satisfied his particular "itch" to create something with his hands. I'm thankful to have this model-building set as part of our family's collection. I should also note that my son is not known for his patience when things don't go quite right, and the mistakes he made as we built together gave him several opportunities to practice the skills we have been working on in terms of patience, self control, and perseverance.
Children practice engineering, creativity, following directions, creating new ideas without directions (imagination), motor skills, problem solving, decision making, and much more.
Buy this product at:
As an Amazon Associate we earn from qualifying purchases.