Academics' Choice Award™ Winner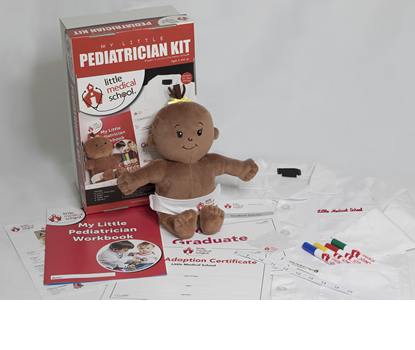 My Little Pediatrician Kit
Ages: 4 and up
Price: $49.95
Type: Toy, Book
By
Little Medical School
Description
This 'mini-medical school journey' for kids offers a wondrous array of fun and exciting props and activities through which children explore the world of medicine, science, health and care taking. The workbook engages little doctors with activities that are as fun as they are enlightening: adopting, naming, and putting a diaper on the baby, learning about diaper rash (and how to prevent it), measuring the circumference of the baby's head, performing a 'Nose to Toes Exam,' and both an introductory and graduation ceremony. My Little Pediatrician Kit promotes social development, cooperation, teamwork, creativity and problem-solving, among other skills. Comes with choice of size of white coat and dark or light skin baby.
Review Highlights:
As a parent with 20+ years experience, I've seen a lot of baby dolls, and a lot of doctor kits. The blending of the two struck me as both unique and engaging. My children (ages 2-10) played ensemble with this sweet, cuddly baby, taking turns being either the concerned parent or the caring doctor. I enjoyed hearing their discussions, and watching them exhibit nurturing behavior as well as practicing the ideas of compassion and empathy.
This product taught my child to be careful and engaged. As he pretended to be a doctor he exerted his emotions and feelings. I liked the doctors coat and the little baby and products. It promoted my child to play pretend as a doctor. The extras were great because it made it more fun to make believe.
Buy this product at:
As an Amazon Associate we earn from qualifying purchases.