Academics' Choice Award™ Winner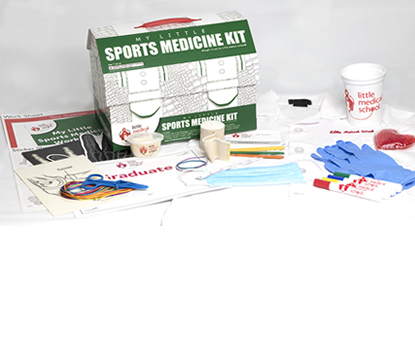 My Little Sports Medicine Kit
Ages: 6 and up
Price: $49.95
Type: Toy, Book
By
Little Medical School
Description
This 'mini-medical school journey' for kids offers a wondrous array of fun and exciting props and activities through which children explore the world of sports medicine, science, health and injury prevention. The workbook engages little doctors with activities that are as fun as they are enlightening: Learning how to treat an ankle sprain, learning the bones of the skeleton and hand, making models of different joints, performing simulated Tommy John Surgery, and both an introductory and graduation ceremony. My Little Sports Medicine Kit promotes social development, cooperation, teamwork, creativity and problem-solving, among other skills.
Review Highlights:
The kids both enjoy playing "Doctor" with the Little Medical School kits (Veterinarian and Sports Medicine)! My kids have had many hours of imaginative play! The "dress up" portions of the kit, such as rubber gloves, face mask, and white coats, encourage imaginative play.
I love that the activities give the student insight into the life of a "real" sports medicine doctor.
Innovative, clever and inspiring! What a great concept.
Buy this product at:
As an Amazon Associate we earn from qualifying purchases.