Academics' Choice Award™ Winner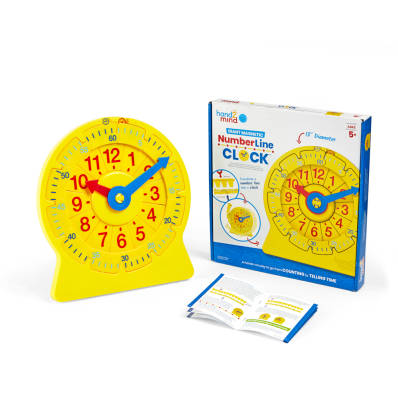 Numberline Clock
Ages: 5 and up
Price: $39.99
Type: Toy
By
hand2mind
Description
Help students see that a clock is simply a circular number line and change how they learn to tell time. Each Number Line Clock comes with a clock frame, snap-on minute and hour hands, and 2 reversible number lines - 1 for hours and 1 for minutes. Simply bend the number lines into a circle, connect the ends, put them into the clock face, snap on the hands, and you've created a clock.

PRODUCT PERKS
- A hands-on way to go from counting to telling time
- Deepens understanding by visualizing the connection between a number line and time
- Color-coding helps kids recognize groups of 5 minutes
- Innovative, patent-pending design revolutionizes how kids learn time


Review Highlights:
The clock itself is cute and colorful with the removable number line piece that allows kids to see that the minutes on the clock are simply a 0-60 number line. Many kids may need this visual to grasp the concept of telling time.
If your young child is having difficulty grasping the concept of the minute hand, this little clock may be just what you need to explain the minutes in a different manner by using the number line.
Students practice how to read an analog clock, and accurately identify the time. This process actually involves a lot of skills that most adults take for granted. Students must be able to count and recognise numbers up to 12. They must have a basic understanding of the length of time for a second, minute, hour or day. To help students grasp this abstract concept I suggest having students close their eyes and then raise their hand when they think a minute is up. This is a quick and helpful way for students to experience a duration of one measurement of time. Students must also understand simple fractions to grasp quarter past, half past and quarter to the hour. They must also be able to count in 5's, which is why the color-coding of the 5-minute intervals on the Numberline Clock is very helpful.
Buy this product at:
As an Amazon Associate we earn from qualifying purchases.