Academics' Choice Award™ Winner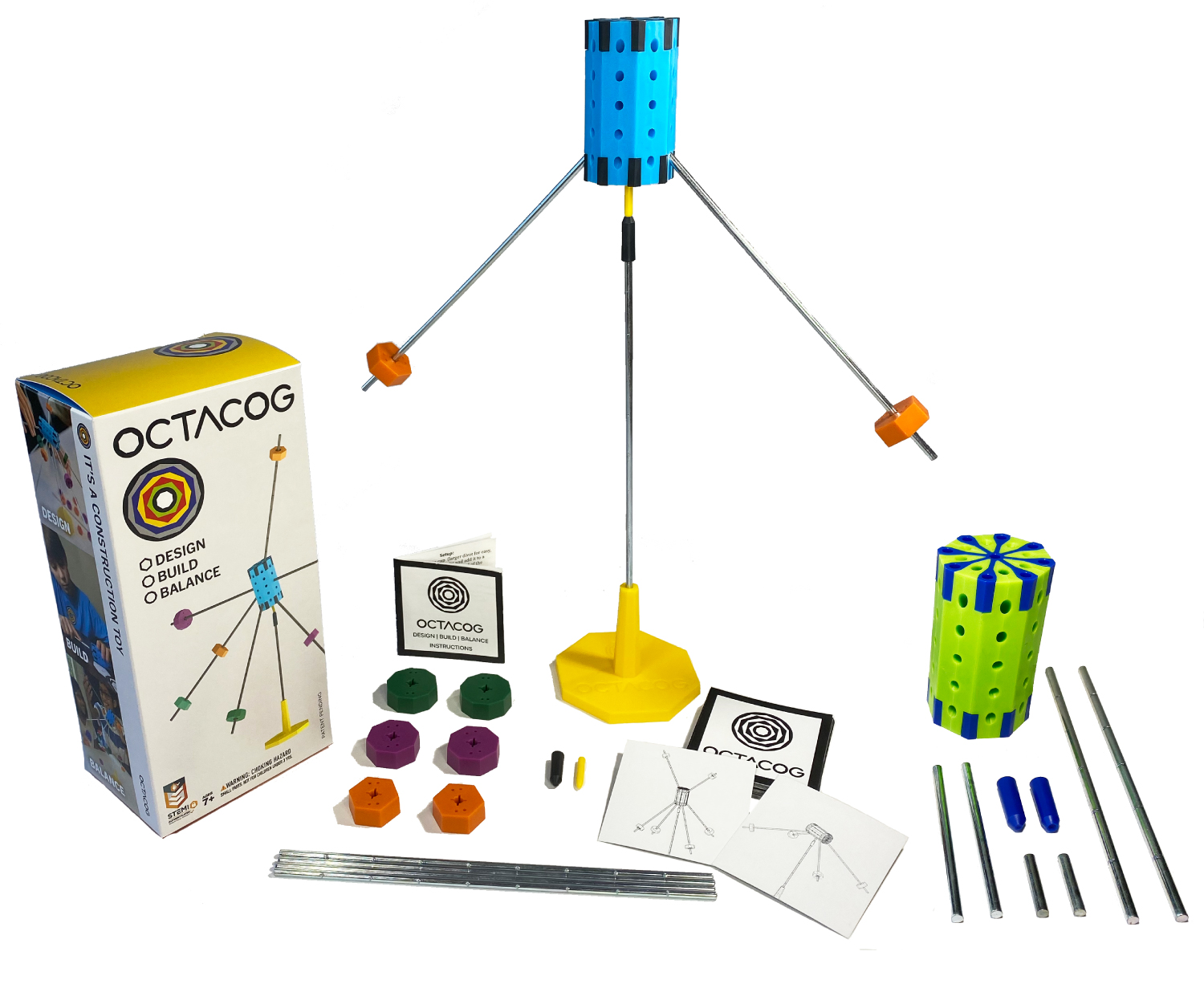 OCTACOG
Ages: 7 and up
Price: $39.99
Type: Toy, Game
By
Cog Toy Company, LLC
Description
Octacog is a STEM construction toy and game that's all about the physics of balance. Design and build countless contraptions. Many will balance. Many will not.

As a toy, Octacog is a modular construction set that allows users to insert balance rods into the angled holes of the Octacog core. Weights are then added to the balance rods at various locations to create endless balanced designs. The added Octacog Expansion Pack allows for even more balance design potential. Octacog is a balance toy that allows users to EXPLORE balance, rather than simply witness it.

As a game, start with a beginning balanced setup from one of the included Design Inspiration Cards. Players take a turn by strategically adding a piece or moving a piece one notch closer to the Octacog core. If Octacog stays balanced, it's the next player's turn. If Octacog falls, the game is over.


Review Highlights:
From the time we opened the boxes, even the most skeptical among us was intrigued. We examined the weights and the rods, and tried to figure out how to fit everything together. The materials (for the most part) are high quality. We had a small incident where the stand broke pretty immediately, but the company quickly responded to my emailed cry for "help" and sent us a replacement, no questions asked. For those of us who are less willing to start out right away experimenting, we received lots of possibilities to come up with contraptions that would balance so we could have a feeling of success pretty quickly. On the other hand, problem-solving and trial-and-error are required before everything works perfectly, so it is good for kids to have to work a bit to achieve success. Once they were successful, the balancing looks so impossible that everyone feels amazed and proud that something so inconceivable-looking could actually work. Photos and videos are required for believability. Once innovation and creativity have been exhausted, the pieces can be used to play a challenging game of skill and audacity.
I love that this activity can be played as a game with the whole family, or can keep one (bored) child occupied for several hours. Watching our creations seem to defy the laws of physics as they balance and spin makes us feel like magicians, even though we know that science is necessary for them to work. This magical quality has led us to explore concepts of balance and counter-balance. We also learned about such laws of physics such as "every action has an equal and opposite reaction," the law of inertia, and "force is equal to mass times acceleration." I love that the kids get to see these scientific concepts put into action right in front of their eyes. I can see the light of understanding dawn as they watch the laws work in the form of their creations, balancing and working in a way that almost seems contrary to logic.
I liked how this product encouraged critical thinking but was fun at the same time. This was a great product for my kids. I highly recommend it!
Children (and adults) practice balancing, critical thinking, innovation, creativity, problem-solving, investigation, science, physics, design, STEM, experimentation, and more!
Buy this product at:
As an Amazon Associate we earn from qualifying purchases.