Academics' Choice Award™ Winner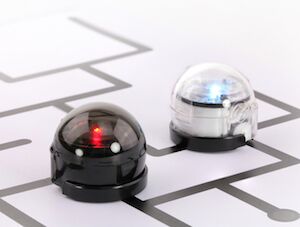 Ozobot Bit
Ages: 8 and up
Price: $59.99
Type: Toy, Mobile App
By
Evollve Inc.
Description
Ozobot is an essential tool to break the "difficult/boring" stigma associated with learning computer science.

Ozobot Bit gamifies STEM and computer science learning through a collection of game based activities and digital apps. Its easy-to-understand color code language makes Ozobot the perfect choice for introducing young minds to concepts that are vital to their success in the 21st century.

Our free STEM/STREAM lesson plans and workshops, offers teachers and parents a cutting edge educational tool that helps kids learn while playing. Download the free apps and build custom maps, challenge friends to games of luck & strategy, and then program your Ozobot to dance or play your very own custom game!


Review Highlights:
The Ozobot Bit promotes problem solving, visual-spatial learning, executive planning, logic, and the inner workings of technology.
I loved the functionality, accessibility for children, and playability!
Ozobot Bit has been a great addition to our homeschool. When the kids need a break from their studies they play with the Ozobot. It's a great way for my boys to get the wiggles out so they can finish their studies. And I love that they are still learning. Can't beat fun-learning!
My kids had a great time discovering what kinds of lines Ozobot didn't respond to, like too thin or light. They loved making Ozobot Bit go around and around. The kids would tape papers together to make a huge area for Ozobot. They'd add a farm house, train, or whatever little land they wanted the Ozobot to explore. More great learning while they are having fun using their imagination. My kids were amazed how the Ozobot can 'read' and detect the color and with the way it can perform different moves all from the pattern of colors.
My boys absolutely loved Ozobot. They had so much fun making paths for him and watching Ozobot figure out which way to go. They tried tricking Ozo (our nickname for Ozobot) with making squiggly lines, circles, and such. I love all the "logic" learning going on when they play with the Ozobot. I really appreciate that Ozo doesn't need batteries. It's rechargeable. This is huge when you have 6 kiddos wanting to use Ozo. My youngest son thinks of Ozo as a pet which we love because no feeding required, simply use a USB port and he's ready to go!
Buy this product at:
Free Apps (iOS and Android) that work with this product
As an Amazon Associate we earn from qualifying purchases.