Academics' Choice Award™ Winner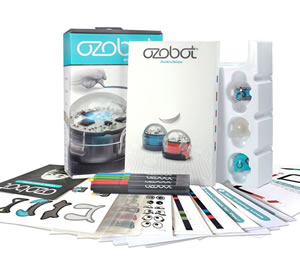 Ozobot Starter Set
Ages: 6 and up
Price: $49.99
Type: Toy, Mobile App
By
Evollve Inc.
Description
Programming is not just for geeks, it's for everyone. When your child learns to write, it's not necessarily to become an author, it's to be able to communicate. Learning how to program is learning the language of today's tech world. It is an essential tool to build their confidence and prepare them to lead tomorrow's businesses whether in medicine, engineering, arts, farming or manufacturing!

Playing with Ozobot allows children as young as 6 to make independent decisions via random logic, get visual feedback with multicolor LED lighting and "dress" their robot with various protective skins. It's intelligent gameplay, the type of toy that will benefit children with cutting-edge skills.

Ozobot Starter Pack • Age 6+ - $49.99

Will your robot be Cool Blue or Lava Red? Both starter kits will ignite a child's imagination and foster a love of technology. Inside each pack are over 20 activities for the enchanting one-inch programmable robot to perform. Look inside for 4 code-creating markers, 2 clear play surface sheets, 2 sheets of reusable Ozobot code stickers plus a DIY blank customizable Ozobot skin and DIY skin sticker sheet. Each pack comes with a charging USB cable. Instructions explain how to download free Android & iOS Apps.


Review Highlights:
My kids ages 5-9 LOVED this product, they have been playing with it non-stop!
Students developed visual perception skills. They were able to practice writing algorithms using colors. This is a great product for teaching/learning coding skills without needing high reading/writing skills. Students can follow the easy to use cards to learn the code. Once students learned how the color codes work, they were able to easily create their own patterns with various levels of complexity.
I love that the product has getting started cards that students can easily learn how to code. I also love the open endedness of the product. Students can create code with quite a bit of sophistication and complexity. Being able to upgrade to Blockly extends the learning potential of this product.
My children practiced observation, creativity, innovation, problem-solving, analysis, and many other skills. From my six-year-old to the adults in our family, we all enjoyed coming up with our own paths and patterns for the ozobot to follow. We spent hours together playing enjoyably and creatively with the ozobot.
It allows for problem-solving and creativity. My son has spent hours coming up with the different drawings and paths for the ozobot. We all worked out different codes to get the ozobot to behave in a different way. It also had a wide variety of choices to decorate the ozobot creatively. The included puzzles were helpful for getting started, but there are also plenty of opportunities for creative and free play.
Buy this product at:
Free Apps (iOS and Android) that work with this product
As an Amazon Associate we earn from qualifying purchases.