Academics' Choice Award™ Winner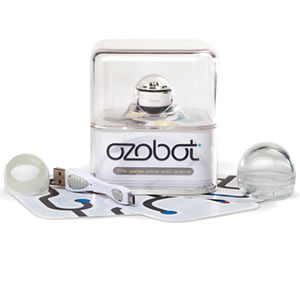 Ozobot
Ages: 8 and up
Price: $49.99
Type: Toy, Mobile App
By
Evollve Inc.
Description
Ozobotís genius is in its ability to read different colors and flashing colored lights on game boards, paper and tablets and smartphones. When Ozobot sees certain patterns of colors (red-black-red, green-blue-green, and so on), it recognizes them as a code that translates into a specific action such as slow down, speed up, turn left or stop. This sets kids up to learn the basic programming fundamentals that will prove to be invaluable in their future. However, Ozobot isnít just a learning device, the play value baked into this little $49.99 device is truly as expansive as the userís imagination. With an almost endless variety of color and light recognition, Ozobot can be programmed to follow paths of mazes, tracks and playgrounds that the user creates. Mix in free Apps on iOS and Android devices to get kids creative juices flowing and youíve got one truly innovative and adorable little bot.


Review Highlights:
The Ozobot promoted creativity and the ability to follow directions. Logic skills came into play when laying down "track" cards for the Ozobot to follow and while playing the games on the ipad.
The Ozobot is a creative little robot that is fun to watch zipping around. Love the color changes and the various speeds and spins.
Buy this product at:
Free Apps (iOS and Android) that work with this product
As an Amazon Associate we earn from qualifying purchases.