Academics' Choice Award™ Winner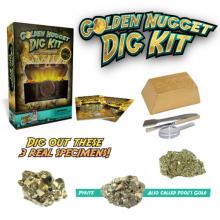 Pan for Gold Science Kit
Ages: 6 - 12
Price: $19.95
Type: Hands-On Toy
By
Discover with Dr. Cool
Description
Learn How to Pan for Gold! Ready to strike it rich? This hands-on science kit will teach you how to pan for gold just like a real gold miner! This exciting treasure hunter's kit includes a 10" prospector's pan, 2 bags of "pay dirt" with pyrite (also known as fool's gold) nuggets inside, mining tools, and much more. You'll learn all of the secrets to panning in the full-color adventure guide. Plus there's an activity booklet with 10 fun games, puzzles, and challenges to solve. With this kit you'll be yelling "Eureka" in no time! Once you learn all of the secrets to gold panning, you can hunt for real gold in a stream near you! This kit makes a great gift for the rock hound or treasure hunter in your family.
Review Highlights:
I have four kids and a houseful of toys, so I am always looking for something different when it comes to gift-giving. I like for my kids to have an experience, not just another toy. I feel that learning how to pan for gold gives my kids an experience that is fun, rewarding, and enjoyable, as well as allowing them to share in a moment from history. I would recommend this to homeschooling parents, as well as to parents of children in the school system.
The panning was exciting for my 6 year old. He found picking out the bits of fools gold to be a little tedious, but his sister helped out with that. As an adult I appreciated the learning opportunity. Since everyone ends up reading about the Gold Rush, it's exciting to learn the basic process, and to realize how much work those gold miners had to do. - Homeschooling Veteran of 11 years
Buy this product at:
As an Amazon Associate we earn from qualifying purchases.