Academics' Choice Award™ Winner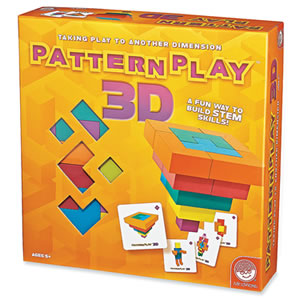 Pattern Play 3D
Ages: 5 and up
Price: $34.95
Type: Toy
By
MindWare
Description
Using brightly colored, multi-shaped wooden blocks, the goal is to recreate 2D patterns into 3D structures. Some build-outs seem to defy gravity; others are stunning works of dimensional art. All puzzles will challenge kids and adults while providing a rewarding, towering finish! Includes 22 high-quality wooden blocks, 20 pattern cards with 40 designs to replicate and a wooden tray.
Review Highlights:
This product allows kids to examine a 2D picture and replicate it in 3D with blocks. The blocks could also be used to make creations of their own. Therefore this product uses critical thinking and creative thinking, compare and contrast, math skills and more! The blocks are bright colors, and the designs range in level of difficulty.
The blocks have pleasing shapes and colors, and sturdy construction. There are endless variations and the activities are very thought provoking.
Pattern play is an attractive set of 22 wooden blocks in six different angular shapes and colors. They fit puzzle-like into an sturdy wooden base. 20 two-sided cards have possible structures shown from one angle that can be made from the blocks. The blocks are heavy and stack well, even in unlikely positions that look a bit off balance. Both my nine year old and my twelve year old spent a lot of time trying to create the designs on the cards and then also creating their own designs and structures. They enjoyed the puzzle of trying to fit all the shapes back in the wooden box, starting with a different shaped piece each time. This is a great building and logic toy for a single child to play with as there are not enough pieces for two children to play together. Since the cards show potential structures from only one angle, it was a great "thinking challenge" to determine how they were built. I would highly recommend this toy.
Our children practiced problem solving skills, strategic thought, observation, and critical thinking while building and attempting to build the structures. We found that they also developed communication skills when explaining how they built certain structures. They would explain how they built one when someone else was attempting it.
Our entire family found this to be fun including both of us parents. We enjoyed figuring out how the pieces fit that you couldn't see on the cards. Even the baby had fun helping take down the structures we had built and stacking his own. One day he climbed into his oldest sister's lap while she was working on a card. When she took her structure down, he started making his own. One evening I had taken the baby to bed and Poppa was working on an especially challenging structure. He got it at one point and sent a picture of it to me on my phone! My daughter even took pictures of her structures after she built them as there were several that she was especially excited about having built.
Buy this product at:
As an Amazon Associate we earn from qualifying purchases.