Academics' Choice Award™ Winner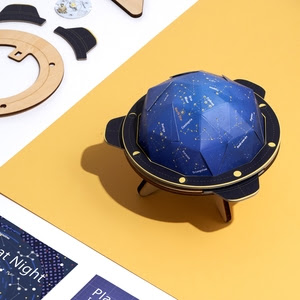 Planetarium
Ages: 9 - 12
Price: $33.00 USD/mo. Subscription | Also available individually
Type: Toy, Arts & Crafts
By
Tinkerer
Description
Tinkerer offers STEAM activities for curious minds. In our Explore box Planetarium, you'll learn about the night sky. You are given the materials needed to construct a planetarium that will project the prominent constellations across the walls and ceiling of your room. Identify them using the Star Wheel in the box and learn about the wonders of heavens in the magazine, The Sky at Night.



Review Highlights:
We enjoyed making the Planetarium. We learned about the constellations as well as how to follow directions. After turning off all of the lights and looking at the constellations on the Planetarium we went outside and tried to find the real ones. It was great to stare at the stars and be able to identify some of them together! This is a great project for homeschooling families!
I really like and appreciate a battery operated toy that comes with batteries - and this one did. Everything else is included in the box. The only thing you need are a pair of scissors. We found a video tutorial online and went from there. I left to give my boy some time with it on his own as we are working on completing tasks and not getting too frustrated when we can't figure something out. He was done with the Planetarium in about 30 minutes and asked me if we could get the catapult. He had gone online to look up other products by Tinkerer. I think that alone speaks for itself! This is a well made STEM like educational product that would work perfectly if you are studying space, or just looking for a cool project for your 10 year old to do.
We learned about stars and planets! My child practiced skills such as perserverenece, problem solving, eye-hand coordination, and following directions.
Buy this product at:
As an Amazon Associate we earn from qualifying purchases.