Academics' Choice Award™ Winner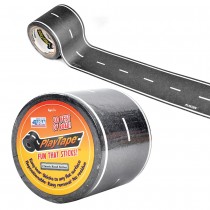 PlayTape
Ages: 3 and up
Price: $3.99-$14.99
Type: Hands-On Toy
By
InRoad Toys
Description
For open-ended, imaginative play that teaches kids how to think for themselves and masterfully create by themselves, there is nothing more ingenious or simple than PlayTape.

For a hundred years, children of all ages have had to imagine the roads they were driving their toy cars on. Now they can instantly turn their imagination into reality with award-winning PlayTape. PlayTape enables kids to creatively build roads and rails for their beloved toy cars and trains anytime, anywhere. It is open-ended play at its best. PlayTape sticks to any flat surface, is easy-tear, repositionable, easily removed with no residue, easily stored & transported, disposable, and recyclable. Just unroll, stick, and play.

PlayTape fosters unbounded, imaginative play with toy vehicles, fostering free thinking that gives kids a sense of empowerment more than any other type of play. In 2015, InRoad Toys added curves to the PlayTape family of construction products, enabling kids to add the twists and turns that every road deserves and dramatically increasing both the play pattern and open-ended educational opportunities. Through instruction-free, hands-on play, PlayTape teaches creative and inventive thinking, 2D construction, role play, visual perception, spacial relations, basic math, problem solving, geometry (shapes, angles, radii, length, symmetry, curves, etc.), collaboration, community, resourcefulness, and even advanced concepts like space planning and urban planning.

PlayTape is one of those ingenious must-haves, the literal glue that turns the entire toy box into an educational panoply. As Laura Evans, Emmy-award winning DC news anchor, put it, "I said my 9 and 7 year old girls would likely not be into it… Well I couldn't have been more WRONG. They loved the tape and played so well together with my 5 year old son, building and coordinating ideas and pulling in other toys (legos, pieces from the train set, dolls, etc) to create different communities with the PlayTape at the center of it all. Who knew TAPE with a road design would be what could pull all that together!"

Used in a group or classroom setting, PlayTape encourages collaboration, cooperation, planning, creativity, and group role playing. Used equally well by a single child, PlayTape encourages independent thinking, creativity, imagination, and the notion that whatever you think of is possible to create. These are exactly the skills a child needs to thrive as they grow up. As the educators at PreKinders summed it up, "I like that it encourages play, imagination, creativity, and cooperation."

Children who use PlayTape get an instant feeling of accomplishment as they plan and create what they imagine. There is no right or wrong. And now, with PlayTape Curves, there is a new opportunity for teaching angles, direction, and construction precision, all in a carefree learning environment. It's impossible to make a mistake, and any perceived errors are easily corrected or tossed out and redone. As one preschool teacher wrote us, "My manager pulled me from my classroom and demanded I show her were I got this product and I showed her to InRoad Toys. She then rushed to get an order together of 25 rolls so the other classrooms could have this same level of learning and creative [experience]."

PlayTape is easy to use, entertains for hours at a time, and cleans up in seconds without any residue or mess. Nothing to store. Completely recyclable. And every future PlayTape creation is a new opportunity to explore the imagination. There are no instructions. No requirements. No parents. No teacher. No scissors required. All you need is a vehicle and an idea of where you want to go with it. Rather than tell you what to do, PlayTape purposefully teaches kids how to flex one of the key things that is most absent and necessary in education and playtime today: Free imagination – the ability to ideate, create, and make on your own. It's what the Maker movement is all about. As the National Parenting Center noted, "Parents were amazed as they watched their kid's imaginations run wild. They loved how it promoted creativity, resourcefulness, inspiration and inventiveness." Perfect for travel, PlayTape also easily fits in a pocket or purse, turning every flat surface - wherever you are - into a play and learning opportunity.

There are over 2 billion toy vehicles sold every year, with one thing missing: Toy roads to drive them on. PlayTape gives every child the roads they've been imagining for a hundred years. There is nothing else like it on the market – PlayTape creates a whole new open-ended play pattern and free-thinking educational opportunity for the millions of toy vehicles in every home and classroom.


Review Highlights:
Creating a unique play area, children are the entire decision makers. The best part is no decision is final. The Play Tape is easily adjusted for instant creativity to match the child's mood.
It's a great value because of the reuse factor. The "cling" type material saves the surface where the product is placed and preserves the product for easy reuse. The product is limited only by the imagination of the child.
Buy this product at:
As an Amazon Associate we earn from qualifying purchases.