Academics' Choice Award™ Winner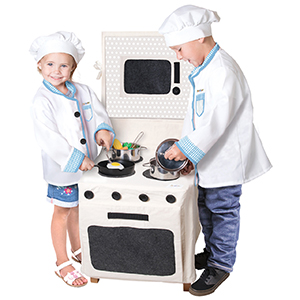 Pop-Oh-Ver Stove and Counter Top Sets
Ages: 3 and up
Price: $39.95
Type: Toy, Gear & Equipment
By
Kangaroo Manufacturing
Description
Say hello to Pop-oh-ver, the clever brand of durable and detailed kitchen play sets that assemble in two minutes over a sturdy household chair!






Review Highlights:
This clever product helps young children develop creativity, imagination, dexterity, fine motor skills, and encourages pretend play, which is essential for children to identify with the adult world. The product promotes emotional development by providing opportunities to express feelings and understanding through re-enactment. Empathy is also developed as children act out the part of somebody else, in this case, the cook.
Pretend cooking is a powerful way to teach patience and hard work. By cooking the same real food that your child is preparing (or vice versa) parents demonstrate their patience and effort and the reward is a delicious meal prepared by all. This inclusive strategy builds self-confidence and grit.
Easy to set up and take down. It's made out cloth that should last a while.
This was a great time for my kids. They had a perfect prop to act like chefs! They played for at least an hour and even wanted to help with dinner that night!
Buy this product at:
As an Amazon Associate we earn from qualifying purchases.