Academics' Choice Award™ Winner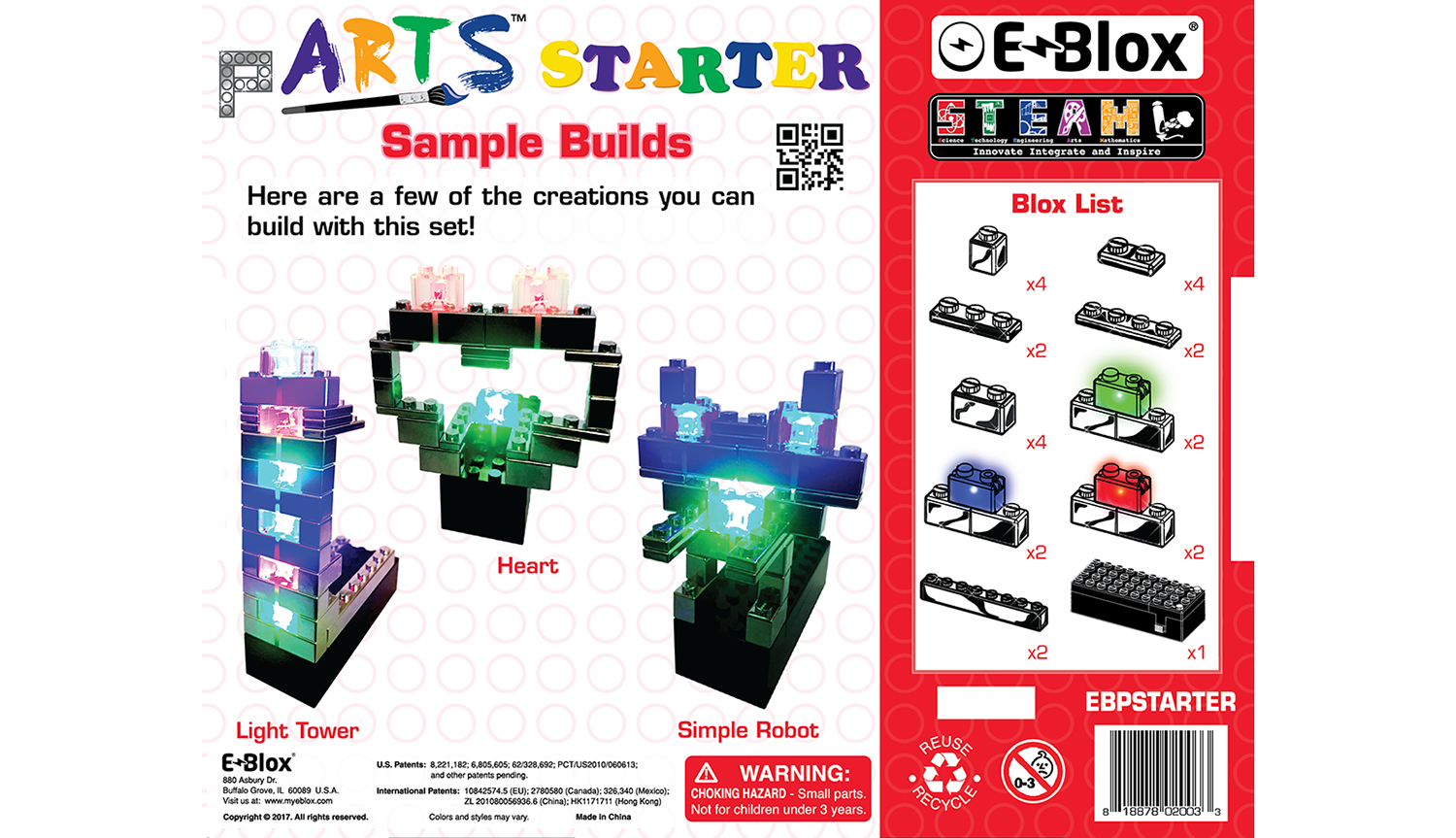 Power Blox Starter
Ages: 5 and up
Price: $34.99
Type: Toy
By
E-Blox Inc.
Description
E-Blox®; are not your ordinary building blocks. Not only can they be used to build creations, they also bring your builds to life! E-Blox® uses our patented technology, which consists of tin plated blocks that connect electrical component blocks to a battery block enabling you to create 3-dimensional circuits that light your builds with no wires. And best of all you can use the E-Blox parts in your Power Blox Starter set with your other similar construction set parts to create limitless characters and objects that all light up. E-Blox Power Blox Starter is a STEAM product, teaching fundamental electronic circuit concepts while also encouraging Artistic creativity to build your own creations. It's tons of fun, it's highly educational...it's E-Blox Power Blox Starter!


Review Highlights:
The E-Blox parts starter kit contains 24 E-Blox block parts (six of which light up), and one E-Blox battery holder that serves as the base for the E-Blox creation. Needed prior to getting started is a small screwdriver to open up the battery holder (not mentioned on the box) and one 9V battery (which is indicated as required on the box). Positioned correctly, six of the E-Blox parts will light up (red, blue or green). The remaining 18 E-Blox pieces can be used to build imaginative designs or to complete circuits in order to activate the light-up blocks. My child learned how to set up electrical connections in series and in parallel. Although instructions were provided on connections in series and in parallel, this product also provided my hands-on learner with the opportunity to use trial and error to learn what worked and what doesn't in setting up electrical circuits in a very safe manner.
My son is a Lego fanatic, and so when I handed him the E-Blox parts starter with its mere 25 pieces all of the same color and the picture of three sample builds, I thought he was going to be done with it in less than five minutes. I could not have been more wrong. In his words, "I got addicted to it!" He played with various connections in both series and parallel for more than an hour, and I am sure he will go back to it for days and weeks to come. Even though I told him that he could add to his design with "other similiar building brick sets" (e.g. legos), he did not need them. The E-Blox parts starter provided him with enough blocks and enough challenge without needing any additional bricks from other sets. I am sure bricks from other sets will eventually be used in the future as he will go back and spend more time with the E-blox parts starter set, but this product is great on its own!
Instructions on how to make connections in both series and parallel is provided. However, the written material is brief and my son (age 11) tended to rely more on trial and error to learn how electricity flowed and connected from the positive and negative ports of the 9V battery. I found this to be great as it engaged my more active son in learning how to put together electrical circuits without requiring him to read and follow a prescribed set of steps. This is a product that I would highly recommend to other families and friends with children eight years or older who show any interest in either block building toys, or in electronics/robotics. My son, Samuel, said, "This was very fun to learn. It was fun to experiment and try stuff out. Very fun building whatever you want." Samuel ended up taking his design to bed with him - who knows what time he ended up going to sleep!
E-Blox is a small kit of Lego-compatible building blocks that offers the innovation of providing lights and electric current for projects. Kids learn STEAM skills through building, planning circuits, and playing with their creations. This product offers a unique twist on classic building, and is compatible with most common building sets. It is user friendly, eye-catching, and simple to use.
Buy this product at:
>
As an Amazon Associate we earn from qualifying purchases.