Academics' Choice Award™ Winner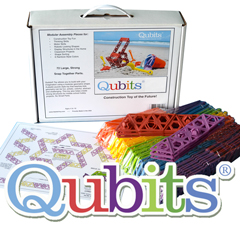 Qubits Construction Toy
Ages: 4 - 16
Price: $49.95
Type: Hands-On Toy
By
Qubits Toy Inc
Description
A sculptural and geometric Modular Form Building Element Toy called "Qubits". A new favorite of the STEM market with activities being conducted at several science museums across central Florida. Easy to use parts, snap together quickly and easily. Complex or simple shapes can be created using architectural construction methods of a shear plane with lateral support. It can be a puzzle to solve the complex patterns or you can simply build free form shapes. Have fun building tall towers or structural bridges!


Review Highlights:
My kids couldn't wait to get their hands on Qubits. We tried to replicate the shape described in the instructions without much success, but we did manage to create a few nifty things on our own. The kids (ages 7, 11 and 14) fiddle with the pieces everyday coming up with new ideas and inventions, which I think is a great creative exercise for them.
As a mom I love that the pieces are flat because they are easier to store. When dealing with Legos or other blocks they never seem to fit back inside their container easily and if you step on one OUCH! These pieces are durable and easy to keep organized. I am glad that I discovered them and will recommend them to other families.
Buy this product at:
As an Amazon Associate we earn from qualifying purchases.