Academics' Choice Award™ Winner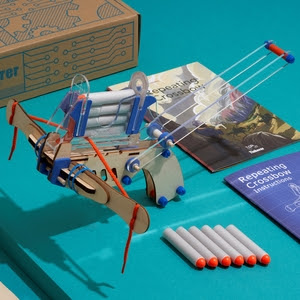 Repeating Crossbow
Ages: 9 - 12
Price: $33.00 USD/mo. Subscription | Also available individually
Type: Toy, Arts & Crafts
By
Tinkerer
Description
Tinkerer offers STEAM activities for curious minds. In our Explore box Repeating Crossbow, you'll construct your own repeating crossbow by following the graphic instructions. Shoot at the targets to practice your aim and compete against your friends. In the magazine, learn about the history of the crossbow, how the crossbow stores kinetic energy and how lever systems work.



Review Highlights:
We really enjoyed making the crossbow. My son is into weapons and anything destructive so this was right up his alley! He was ready to build when it showed up at our house. The magazine was very informative with nice illustrations and analysis of the crossbow. The materials were surprisingly solid. The wood was smooth and there were no problems regarding how it all fit together. The crossbow turned out perfectly and my son shot it for days after. I'd recommend Tinkerer's Repeating Crossbow to any kid under 12 that likes to build!
We liked the challenge of putting it together. There are lots of pieces and many images to follow but we did it. My 8 year old is a lego master so he was used to building from visual maps. He is slighlty dyslexic and good at thinking about 2D objects in 3D. He was empowered and found confidnece by completing this corssbow.
Thank you so much! We enjoy doing reviews for Academics' Choice and I think this was one of our favorites so far. We highly recommend Tinkerer Toys!
We learned about levers, fulcrums, kinetic energy, and other "cool stuff." We liked the detailed the instructions, the magazine and the crossbow!
Buy this product at:
As an Amazon Associate we earn from qualifying purchases.