Academics' Choice Award™ Winner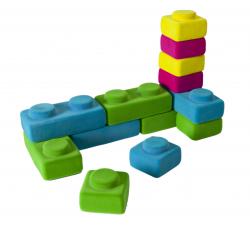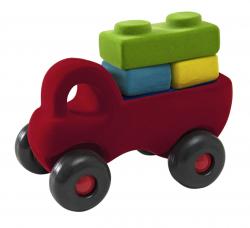 Rubbablox Trux & Blox Set
Ages: 0 and up
Price: $59.90
Type: Hands-On Toy
By
Rubbabu Inc.
Description
Rubbablox Blox and Trux set. Use the truck to load and unload Blox while you build and create new structures. These brightly colored soft and velvety blox and truck are made from 100% natural rubber foam.
Review Highlights:
My son really enjoyed the Rubbablox Truck and Basix Set. The material is velvet soft, squishy, and brightly colored.The blocks fit together nicely and stack quite easily. This is a great toy if you want an alternative to plastic or wood blocks.
My son loves his Rubbabu truck!
These blocks are great for building and creative play. The color and texture are very attractive and seem to keep my little guy engaged. He's been working within them for a while now and showing no sign of boredom. The blocks are great for the really young ones that like to touch and feel everything to experience it. They are unique and definetly a great addition to my son's Lego and Tinker toy set.
Buy this product at:
As an Amazon Associate we earn from qualifying purchases.