Academics' Choice Award™ Winner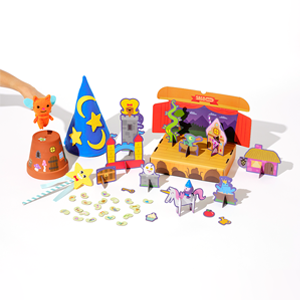 Sago Mini Box: Fairy Tales
Ages: 3 - 5
Price: $22.00
Type: Toy
By
Sago Mini
Description
In this box, storytelling and pretend play rule. Reenact classic fairy tales with the Fairy Jinja finger puppet or create your own on the main stage. Kids will get to make their own fairy wand, commissioned by Gary the unicorn, and then use it to — poof! — transform a garden pot into a magical fairy condo.


Review Highlights:
Children have the opportunity to develop their storytelling skills in the Fairy Tales Box! Creative thinking will soar as children use the Magic Story Beans. Developing a story from an adorable picture prompt helps children employ not only quick thinking, but provides opportunity to discuss story structure and key story elements. As children use the Finger Puppets, they will begin to learn about main characters and plot. Fine motor skills will be developed alongside creative decision making in Activity 3. As children work to create their wizard hat, wand, and gnome home, their storytelling is sure to continue. As kids construct their art projects, stories run through their minds - working their growing imaginations.
As a former kindergarten teacher turned homeschooling parent, I will stand up and cheer for any product that helps children learn to tell stories. This box develops idea formation, creative problem solving, and PLAY.
The fairy tale box also inspires opportunities for children to READ AND WRITE! When a simple box of activities can get young kids excited and interested in reading fairy tales and creating their own stories, I throw my full support behind it.
Buy this product at:
As an Amazon Associate we earn from qualifying purchases.