Academics' Choice Award™ Winner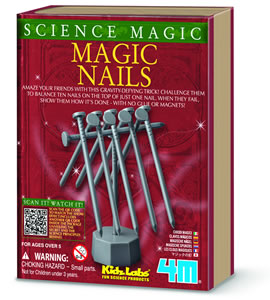 Science Magic-Magic Nails
Ages: 5 and up
Price: $6.00-$7.00
Type: Hands-On Toy
By
4M Industrial Development Limited
Description
Amaze your friends with this gravity-defying trick! Challenge them to balance ten nails on the top of just one nail. When they fail, show them how it's done with no glue or magnets!
Review Highlights:
My child had lots of fun playing with Magic Nails! She didn't stop trying to balance the nails until she got it right. She was so proud to show her dad her new trick!
This was great fun! Although it is marketed as a magic kit, I ended up using it to describe gravity and balance to my 6 year old. I'd recommend this product for any science teacher because it seems like magic to kids but at the same time, you can teach science concepts through it.
Buy this product at:
4M Industrial Development Limited
As an Amazon Associate we earn from qualifying purchases.