Academics' Choice Award™ Winner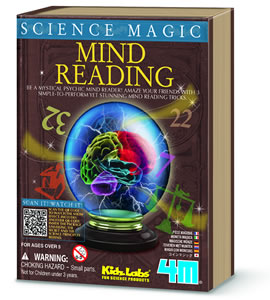 Science Magic-Mind Reading
Ages: 5 and up
Price: $6.00-$7.00
Type: Hands-On Toy
By
4M Industrial Development Limited
Description
Be a mystical psychic mind reader! Amaze your friends with 3 simple-to-perform yet stunning mind reading tricks.
Review Highlights:
This product is really fun to learn and it can really amaze a group of children. It does depend on simple math problems that an older school age child can understand. Visual discrimination is also exercised through recognition of letters as well as memorization. My 6 year old had trouble with 1 of the games because adding in his head was too difficult with 2 digit numbers. The age for the product should probably be rated 8 and older, but we had a great time playing it and my son wants to share the tricks at the next birthday party he attends.
Buy this product at:
4M Industrial Development Limited
As an Amazon Associate we earn from qualifying purchases.