Academics' Choice Award™ Winner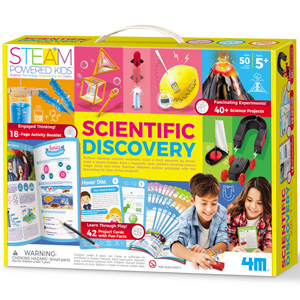 Scientific Discovery Vol. 1
Ages: 5 and up
Price: $49.99
Type: Toy, Arts & Crafts
By
4M Industrial Development Limited
Description
Scientific Discovery Vol. 1 is a comprehensive home-schooling STEAM kit that covers 7 science topics, including magnetic force, bubble science, water science, air science, electricity, materials and science magic tricks.

Perform tabletop volcanic eruptions, build a clock powered by lemon, make a square bubble, drive a magnetic racer, perform amazing science magic tricks and more. Discover different science principles with this fascinating kit. Over 40 fun projects!!


Review Highlights:
This kit allows curious kids to test their skills at performing simple experiments and activities that demonstrate scientific concepts.
This kit has it all! As a homeschooling parent, I've purchased many experiment kits for my kids. This one was not only an exceptional value (the sheer number of activities and experiments is staggering) but it was easily the most accessible kit I've ever seen for kids. The activity cards gave simple instructions, everything needed was included in the kit (save a few household items) and the science was simply explained.
There was nothing to not love about this kit! Everything was included, the supplies were sturdy and easily identifiable, and the variety of topics was amazing.
Homeschooling parents take note: this is an exceptional value for all ages!
Buy this product at:
As an Amazon Associate we earn from qualifying purchases.