Academics' Choice Award™ Winner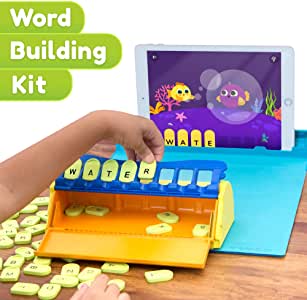 Shifu Plugo - Letters
Ages: 4 - 10
Price: $59.99
Type: Toy, App, Game
By
PlayShfiu
Description
Plugo Letters is an AR-powered word building kit that combines the goodness of hands-on learning and healthy screen-time.

Learn to spell new words with phonics and improve your vocabulary and word usage in sentences. Develop grammar concepts like nouns, verbs, vowels, synonyms, and more.

Sharpen your linguistic, reading, comprehension, cognitive, and motor skills. Learn spellings through phonics (ABCs), word usage in sentences, grammar, and language concepts like nouns, verbs, tenses, etc.

Download the free Plugo app from App Store and play 4 games with 250+ progressive levels. The games are designed to suit the learning needs of kids as per their age.

The kit contains a Letters Trunk and 48 letter tiles. Spell with tiles on the Trunk, and put them all inside to store away. It comes with the Plugo gamepad, a foldable mat with embedded magnets to hold the Plugo kit on one side, and your device goes in the slot on the other side. Hands-on learning without touching the screen!

iOS - iPad 3rd gen or newer, all models of iPad Pro (except Pro 12"), all models of iPad Air, iPad Mini 2nd gen or newer, iPhone 6 or newer | Android - Samsung tablets & smartphones, 2015 or newer with more than 2GB RAM | Amazon Kindle - Fire 7 (9th generation - 2019 release only), Fire 8 (8th generation - 2018 release only)


Review Highlights:
Learning letters, letter sounds, and sounding out words just became a whole lot more fun! The fun, colorful animations shown after successfully placing the letter tiles truly engaged my daughter. The structured lessons, which feel more like games to kids, held her attention for hours! I love that this teaching toy has both a tactile and virtual aspect to it. It allows kids to keep their busy fingers moving, developing dexterity and hand-eye coordination while the words come to life on screen. It's like animated Scrabble for kids!
Children learn new words, how to spell them, and use them in a sentence. Kids can grow their vocabulary from three letter words all the way up to eight letter words. I was impressed that the program adapts the story-based games to the child's grade/skill level. The word building kit also includes various poems and puzzles.
This is a powerful little kit. It's easy to setup and the multisensory learning experience delivers lots of ah-ha moments.
Buy this product at:
As an Amazon Associate we earn from qualifying purchases.