Academics' Choice Award™ Winner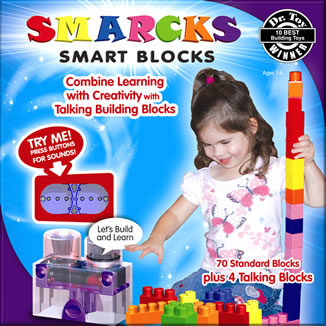 Smarcks Smart Blocks
Ages: 1 - 6
Price: $69.95
Type: Hands-On Toy
By
Smart Blocks, Inc.
Description
The Smarcks Building Set has 70 standard building blocks and four 2nd generation talking blocks. The new Smart Blocks have 300% more teaching capacity and have been programmed with a progressive learning function - as children get older they play differently and the blocks are programmed to react differently. Very young children can press the buttons in the blocks or stack them on one block at a time. This is the discovery stage and the Smart Blocks sing, play nursery rhymes and sound effects, laugh, and talk about colors and good manners. As children develop their fine motor skills they begin to stack on two blocks at a time. Play now moves to a higher level and the Smart Blocks teach spelling, counting, math, and puzzle solving. The set comes with a Puzzle Builder Guide to show children how to stack the blocks to solve the Music Block puzzle and with an ABC chart with pictures that match the words the blocks spell. Smart Blocks combine the educational benefits of electronic toys with the creativity of building blocks to provide years of entertainment and learning.
Review Highlights:
The Smarcks Smart Blocks toy by Smart Blocks, Inc. is a set of colorful building blocks that are developed with a growing child in mind and are suitable for ages 1-6. The blocks are reminiscent of classic block toys, are supersized for easy manipulation and come in a variety of shapes and colors to stimulate the senses. They are made from approved safe and sturdy plastic all smooth with no sharp edges. I noticed how good they all fit together and when your child's creation falls, it does not fall completely apart, so do not expect any frastration for your little learner. I find this to be a standout feature as compared to all other blocks that do not have as good of a fit and any castle or tower that was built falls apart and your little one has to start their project over.
The most fascinating feature is the talking blocks that come along in this set. There are four talking blocks in the set each serving a separate function. My daughter couldn't get enough of the music and the rhymes that these blocks produce. The tops of all the normal blocks are designed differently so they trigger certain areas of the talking blocks thus communicating what to do - to sing, to rhyme, to spell or to count. There are numerous possibilities and combinations for the never ending fun and. This toy is so versatile that your child will not be bored playing. The instructions are also included in an easy to follow chart.
If you are on a budget and looking for a perfect educational toy with endless possibilities to entertain your little one, I definitely recommend the The Smarcks Smart Blocks toy by Smart Blocks. This is an all-in-one fun with possibilities to build, stack, create and learn at the same time. It has become a great complement to our collection of blocks and turned out to be one of my daughter's favorite toys of all time. I am very happy with all the aspects of the Smarcks and I will recommend it to all moms who seek toys that deveop logic, problems solving and increase the child's creativity.
Smartblocks aim to teach the child spelling, manners, and nursery rhymes while developing fine motor, spatial tactile and problem solving skills. Most children play with building blocks during early development which in turn introduces basic building skills and creativity, but these blocks offer so much more. An added element of surprise is also apart of Smartblocks. While playing with the blocks, children can randomly come up with a design that will produce a "secret sound." The children are always engaged and excited to play with the possibility that another secret sound might come out of the blocks (more info about how to find the secret sounds is on Smarks website). The blocks don't necessarily teach spelling per se but do offer the child the choice to make the block spell out words as many times as possible for the child to then memorize and store the word in short term memory. With that said, this is a great product and your child will love it!
Buy this product at:
As an Amazon Associate we earn from qualifying purchases.