Academics' Choice Award™ Winner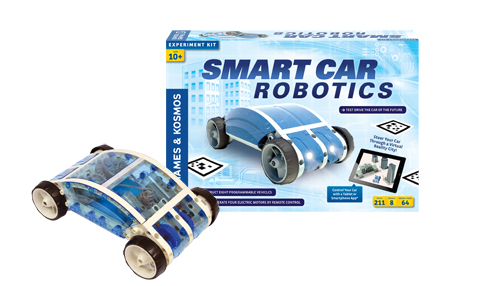 Smart Car Robotics
Ages: 10 and up
Price: $129.95
Type: Toy, App
By
Thames and Kosmos
Description
Explore the cutting edge of automotive technology with this futuristic car. Construct the sleek, high-tech car, and then use your tablet or smartphone to control the carís motorized wheels and steer it in any direction. On your deviceís screen, watch the car as it drives through a virtual, augmented reality cityscape. Use the free downloadable app to script a simple program that instructs your car to automatically follow a predetermined course through your city.

With the construction system in this kit, you can also build seven cool-looking models in addition to the smart car. The special Bluetooth Low Energy interface means your modelís batteries will last much longer. Free downloadable app. Ages 10 and up. 219 pieces. Tablet or smartphone hardware requirements: iPad, iPhone, or iPod touch with Bluetooth Low Energy support, i.e. iPad mini; iPad 3 and 4 (iPad with retina display) or newer; iPhone 4S and 5 or newer; iPod touch 5th generation or newer; requires iOS 5.0 or newer.

To get the free app visit: http://www.thamesandkosmos.com/apps/620349/
Review Highlights:
I really enjoyed putting the smart car together. I had fun putting the pieces together and driving it around using my iPhone to control the car. I also liked the challenge. -Sonia, age 13
Materials: I am happy with the materials; the plastic pieces are durable enough so that kids can put it together and use it without being overly cautious. At one point during construction, I noticed my daughter (age 13) having a bit of difficulty; her solution was to use an excessive amount of force while trying to attach a piece. I was worried the toy would be compromised, but when I checked it out later there were no signs of distress.

Building instructions: As a teacher, I was impressed with how simply and clearly the directions were written. My 13-year-old daughter put the car together by herself (without frustration) in about an hour and a half.

Activities: The activities (setting up the app, driving the car etc) engaged my daughter. The projects are open-ended allowing users to branch off, extending the learning and the fun. As a parent and as a teacher, I would recommend this toy to friends with kids as well as to my colleagues for classroom projects. I will not hesitate in allowing my own students to handle and experiment with this car independently.
Buy this product at:
As an Amazon Associate we earn from qualifying purchases.