Academics' Choice Award™ Winner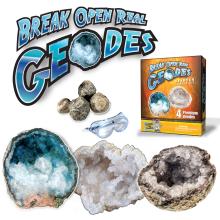 Starter Geode Kit
Ages: 6 - 12
Price: $19.95
Type: Hands-On Toy
By
Discover with Dr. Cool
Description
Break Your Own Geode Science Kit - Starter set of 4 Geodes! Crack open these real geodes and discover the amazing crystal treasure inside! This starter science kit includes 4 real geodes from 2 different mines so that you can discover a variety of crystal formations. This hands-on kit includes premium geodes that are guaranteed to have incredible crystals inside! Also included are safety goggles, a geode display stand, and a high quality information guide which will teach your young scientist all about geodes, and will allow them to identify the crystal formations inside. Plus there's an activity booklet with 10 additional puzzles, games and challenges. Science doesn't get any cooler than this! Winner of multiple awards for exceptional geode quality, educational materials, and play value!
Review Highlights:
This geode kit "rocks!" It comes with some really easy to read geode facts to give you some background knowledge about what you will be exploring. Our 7 year old boy left the house with the geode, hammer, and safety goggles. He was back after a few minutes stating he could not break the rock. We then helped him with a chisel and hammer which cracked the geode open after a few strong strikes. The remaining three geodes were cracked by our 2 sons throwing them down hard on the concrete. This was very satisfying to them. The geodes were all quartz crystal inside and very much admired after learning so much about them and examining them with a magnifying glass. They are presently displaying them on our bookshelf and showing everyone that visits and spouting off facts about them. Dr. Cool, you've created a fun and active product that has taught my children so much. This Geode Kit is the best kind of hands on learning.
Great fun! My daughter was able to crack these open without any problems or help from me!
Buy this product at:
As an Amazon Associate we earn from qualifying purchases.