Academics' Choice Award™ Winner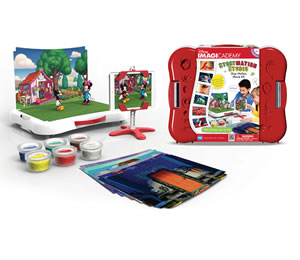 Disney Imagicademy Storymation Studio
Ages: 4 and up
Price: $29.99
Type: Toy, App
By
Wonder Forge, Inc.
Description
Stop Motion Movie Kit!

Get creative with a collection of Disney characters, backgrounds, clay, and costume molds! Download the FREE, easy-to-use Storymation Studio animation app and make your own animated masterpiece inspired by your favorite Disney films!

Promotes
• Imagination & creativity
• Cooperation & teamwork
• Creative Expression

Review Highlights:
We had a ball with this product! The backdrops are well made and beautifully designed, there are many clay and costume molds to choose from and there is a great selection of paperboard characters to use for your movie.The directions and app make it easy to film your own real mini-movie. You can move figures, rotate them, change speed and perspectives. You can also add special effects!
My daughter and I had a great time with Storymation Studio and I know we'll be at it again tomorrow!
Buy this product at:
iTunes App Store (for app to use with the kit)
As an Amazon Associate we earn from qualifying purchases.