Academics' Choice Award™ Winner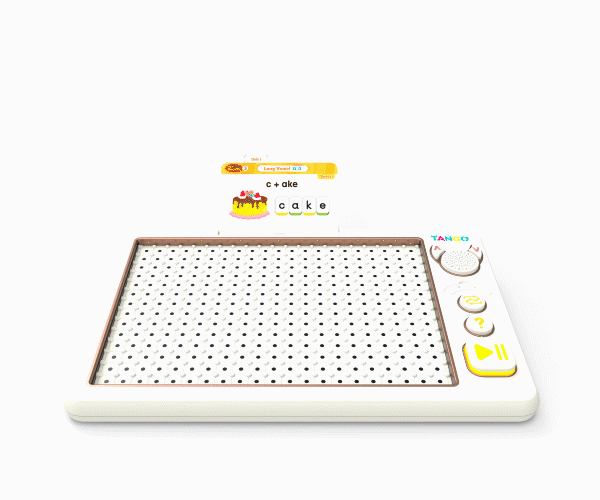 Tango
Ages: 3 and up
Price: $343.00
Type: Toy, Electronics, Audio, Gear & Equipment
By
Playtango
Description
Playtango is a fabulous way for children to learn letters, spelling, pronunciation and vocabulary in a play-based format they find both entertaining and highly engaging. At the core of the Playtango experience is a smart board and alphabet blocks the board senses and 'reads' aloud as soon as they are placed on its surface. Also included in Playtango's English Phonics Contents are learning cards and plates, which helps the experience become even more educational and inspiring.

Kids can arrange the letters to form any word of their choosing and then press the play button to hear that word spoken aloud, a feature that inspires experimentation and exploration that prove invaluable in reinforcing the words and concepts being absorbed.

Playtango offers a variety of additional educational content for purchase separately and is developing more, including Chinese, Math, Coding, etc. The distinctive combination of interactive visual, tactile and audio features makes for multi-sensory learning experiences that offer a wealth of educational benefits, while the considerable fun factor keeps kids returning for more play and learning.


Review Highlights:
Tango provides structured and exploratory, multisensory, hands-on play. It's a multipurpose board game and screen-free phonics app all in one! Children feel like they are playing on a tablet like an adult while manipulating the tangible letter blocks into position. Physically touching objects is so important during early learning development and this educational toy gets it. Combined with the auditory feedback including letter and vowel songs, word pronunciation, and praise, Tango makes for a truly immersive learning experience.
There are 250 learning cards (21 blending cards, 167 word cards, 62 sentence cards) with visual cues that structure the activity and educational experience. For example a card will show a partial word such as "cak?" along with a picture of a cake and the child must figure out the last letter ("e"), and then place the letter. The board then senses the complete word and says it out loud. Also included are 17 boards or plates that offer sing alongs and phonics stories. The board says the right answer, praises the child, and sometimes even advises/tutors the child. There are more than 5,100 high frequency English vocabulary words that Tango can read!
"Tango" in Latin means to touch or to feel. The aptly named toy quickly became one of our preschooler's favorite activities. She is learning letters (including single letter sounds, short vowels, long vowels, double letter consants, double letter vowels), spelling, pronunciation and vocabulary. The curriculum guide is very helpful for structured learning, but once the child gets how it works, the magic happens during playtime. The experimental/exploratory learning approach allowed by the board and letters let's my daughter take charge of her learning. It expands the use of the product far beyond the cards and boards. And you can even switch languages with ease! Currently English, Korean, and Chinese is supported with Japanese coming soon.
Tango deserves the letter grade "A"!
Buy this product at:
As an Amazon Associate we earn from qualifying purchases.