Academics' Choice Award™ Winner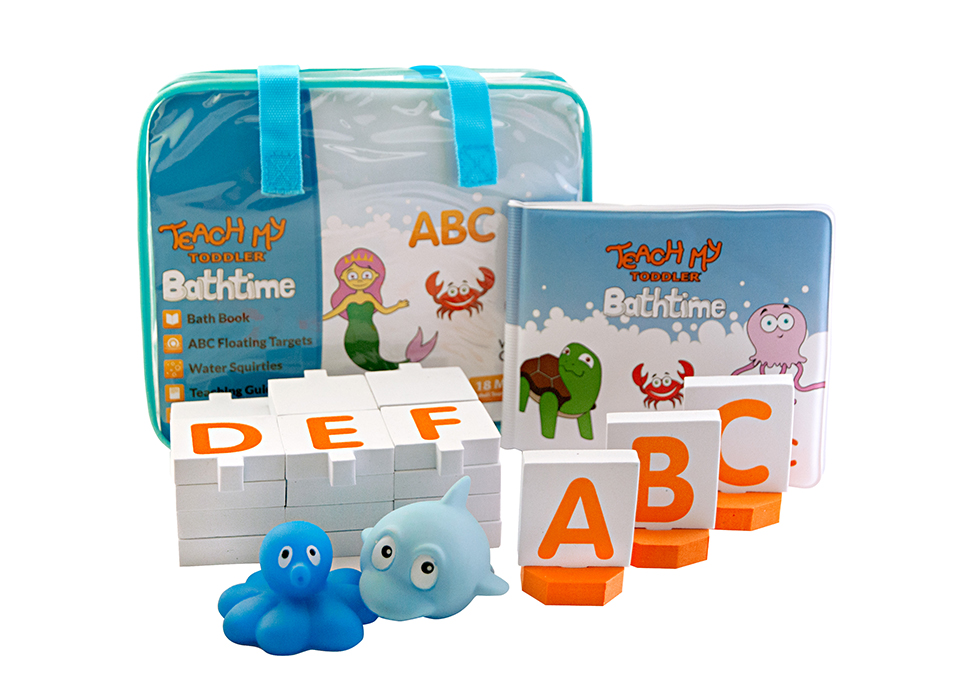 Teach My Toddler Bathtime ABC's
Ages: 18 months and up
Price: $11.99
Type: Toy, Book
By
Teach My Toddler Inc.
Description
Teach My Toddler Bathtime ABC's is a unique bath toy for toddlers. Screen-free, the set introduces your toddler to 26 alphabet letters in a fun and educational way. Teach My Toddler Bathtime has a coordinated bath book, foam letter targets and water squirtees to make learning the alphabet a game. Teach the basics during bathtime by squirting alphabet letter targets with your toddler. Teach My Toddler Bathtime ABC's turns tub time into learning time. Busy parents can use screen-free tub time as a place to teach the basics. Give your child a head start in just 20 minutes a day!


Review Highlights:
This product is a fun way to make bath time fun and educational at the same time. There are 26 foam, upper case letters of the alphabet and foam stands that you secure them in. Included are two cute water squirters. There is a yellow fish and a blue octopus and you as the parent can call out a letter of the alphabet and your child then squirts that letter. Practice the alphabet in order. You can practice your child's name. The orange bases that letters sit on float in the water. Also included is a bath book. The book is an ABC book that has the upper case letters of the alphabet along with a picture such as B is for Ball. Instructions for further use are included in the bag. The storage bag is plastic and is perfect for storing all of the items. In total there are 55 pieces included.
This bath companion toy develops letter identification, letter sound recognition, early reading skills, hand-eye coordination, matching, and communication skills. It promotes parent-child interaction and structured play.
We really liked the packaging and all in one feel for bath time. My little one loves grabbing the bag next to the tub and dumping it into the bubbly water. We enjoyed our experience with Teach my Toddler Bathtime. He really liked shooting water at the letters and matching letters to the book.
Buy this product at:
As an Amazon Associate we earn from qualifying purchases.