Academics' Choice Award™ Winner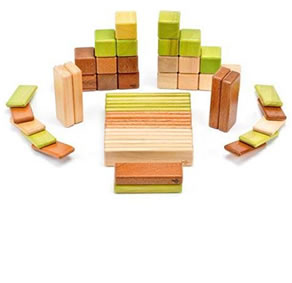 The Original Set - Jungle (from Tegu)
Ages: 3 and up
Price: $140.00
Type: Hands-On Toy, Magnetic Blocks
By
Tegu
Description
Discover the magical combination of magnets and wood with Tegu's 52 piece Original Set. Made from beautiful Honduran hardwoods, Tegu's magnetic wooden blocks will push your imagination in ways never before possible. The Jungle Original Set includes 52 magnetic blocks in four shapes: 20 Cubes, 16 Long Planks, 10 Short Planks, and 6 Jumbo Planks.
Review Highlights:
These are beautiful wooden blocks that will last for many years. What a great investment!
The Tegu Set is a tactile-kinesthetic learners dream. These natural looking, Honduran wood blocks allow for hours of hands-on, creative activities that will develop fine motor and visual-spatial skills.
My 5-year-old son and 4-year-old daughter worked together to make an amazing robot figure and a couple other fun designs. There were enough blocks in the set for both of them to use at the same time.
Buy this product at:
As an Amazon Associate we earn from qualifying purchases.