Academics' Choice Award™ Winner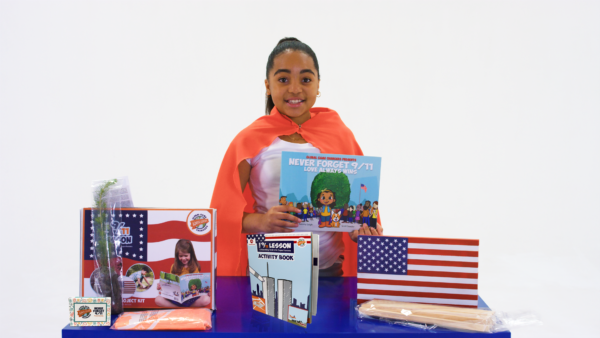 The 9/11 Lesson Service-Project Activity Kit
Ages: 8 - 12
Price: $29.99
Type: Toy, Arts & Crafts
By
Global Game Changers
Description
This unique service-project activity kit will help children to learn about 9/11, honor the heroes of September 11, 2001, and become a Real-Life Superhero themself! This kit includes an engaging, educational activity book, a copy of Global Game Changers' latest picture book, Never Forget 9/11: Love Always Wins, one Superhero cape, and materials and instructions for four unique service projects! These service projects will help you to create and submit artwork for GGC's 20th anniversary commemorative book, make a flag for a hero, plant a Survivor Tree, and share a positive chalk message! Through this engaging activity kit, parents can use Global Game Changers' educational activities and resources to teach their families about 9/11 and build a sense of patriotism in their children.


Review Highlights:
This 9/11 Lesson Service Project kit has an incredibly well thought out lesson plan with activities for children to honor survivors, express positive messages, and learn more about the super-heroes of 9/11.
Cartoon videos, a virtual museum, virtual heroes, first aid safety, lesson plans, links to national memorials, service project ideas and even a 9/11 Stair Climb Challenge for children to honor the fallen firefighters from that day are all found at 911lesson.org. Definitely utilize the free resources at The 9/11 Lesson Website!
Geared for children ages 8-12 (but can be used for kids in any age range), this children's book follows the main character Pia and her dog Pixel as they visit the 9/11 National Memorial. It is a brightly illustrated story with loveable cartoon characters. The author did a FANTASTIC job at taking kids through the journey of what the memorial stands for but in a light positive way. The 9/11 Lesson Service Project Kit also includes different service projects to complete such as planting an evergreen tree in honor of the survivors, creating your own commemorative art and/or banner to show what 9/11 means to you, preparing a disaster relief kit, and writing thank you cards for first responders.
The activity book in our kit had all sorts of things that even I learned about! It included a timeline of 9/11, facts about that day in history, fun puzzles & mazes, writing prompts & art activities, flag facts, and important stories of heroes on that day.
Buy this product at:
As an Amazon Associate we earn from qualifying purchases.