Academics' Choice Award™ Winner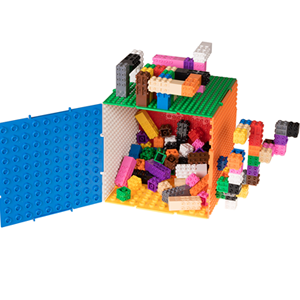 The Cube & Creatorz
Ages: 9 and up
Price: $24.99
Type: Toy
By
Strictly Briks
Description
3D Play For STEM Development. Creatorz™ are amazing, mind-bending construction briks ready to challenge your child into understanding invention, problem solving, and assembly. Each multi-sided 3D Creatorz™ brik provides endless possibilities for the architect in every child! Combine with The Cube™ for extreme 3D Play. Patent Pending.



Review Highlights:
We loved this item!!! Totally unique way to use bricks. My kids from 6-17 all loved these! They loved being able to build suspended creations, build things at funky angles, and use these new cubes with all of the other brick toys we already had. They have already requested that I buy more for Christmas so that they can build even bigger creations. I will highly recommend The Cube & Creatorz to any parent.
Children develop and practice problem solving, cooperation, imagination, engineering, creativity, and many other skills.
What did I dislike about it? Nothing! It was a huge hit.
Loved that they are compatible with all other brick products.
Strictly Briks The Cube targets skills for hand-eye coordination, problem solving, critical thinking, creative play, and basic geometry. The Creatorz are great for problem solving and creative play. Neither of these is something I have seen produced by the larger "brick toy" companies, so both of these products were refreshing. The pieces are large enough that when the cube has been created, it is an impressive size.
For the Cube, I loved the gender-neutral colors and the size of the finished product (It was generously sized). It is a nice-sized storage piece for lots of bricks. The square pieces of the sides can be used with smaller bricks and the cube can be built to accommodate larger brick sizes. I love the return to basic bricks and more general play and creation as opposed to the brick sets I find in the stores that can really only be made into the one pictured item (vehicle, etc). For the Creatorz, I liked the combinations of interlocking holes. These were items I've never seen before!
When my children, ages 7 and 4, opened the package, it was "love at first sight." They both needed a little assistance in fitting the hinges together and making sure the "outside" vs "inside" matched. My 7-year-old started using the Creatorz and the Cube together to make a robot that has body parts and very creative features. He was so excited to spend time just using these to imagine something new, he spent a solid hour just using these. Eventually, he wanted to get his other brick toys to join his creative play, but I was impressed at his level of engagement with just the Strictly Briks Cube and Creatorz. My 4-year-old thought it was fun to "fill" the Cube with bricks as a hiding place, and I loved that she was cleaning up the play area! These products seem very durable and will withstand both play and storage. I see these as products that can "grow" with my kids and their interests.
As an educator, I loved that these products could be used in our school's innovation station very easily. I love to see how children from different grade levels interpret the Cube. It allows students to use name-brand bricks in more creative ways than simply making one vehicle from a popular movie. The Creatorz are interesting pieces that children have to problem solve with other pieces. I love seeing children's brains at work!
Buy this product at:
As an Amazon Associate we earn from qualifying purchases.