Academics' Choice Award™ Winner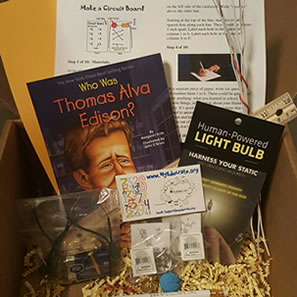 MyEduCrate - The Path To EnLIGHTenment
Ages: 8 - 12
Price: $39.99
Type: Toy
By
MyEduCrate
Description
MyEduCrate is a subscription box service created by certified teachers with exciting, surprising educational themes that will inspire, engage and entertain the growing minds of children ages 8 -12 years old.

All Items listed below are included in The Path to EnLIGHTenment crate.

Dear Giver of Knowledge,

Did you know the discovery of fire was man's attempt to substitute the light of the day while he fights the darkness of the night? As man learned to control the power of light new discoveries developed. As we welcome the new year let's welcome "The Path to EnLIGHTenment." Let's take a look at the items we have selected especially with your child in mind.

1. Make a Circuit Board - Electrical current begins at the battery, moves along a wire and turns on the light.

2.This months mind bending puzzle: Wire Teasers

3. Human Light Bulb - The static electricity generated by your body can power this bulb.

4. Thomas Alba Edison - Non-Fiction Biography

5. *Bonus items: Writing tool and Brain Eraser

*This month's challenge: Write new questions and answers and test other people. Re-wire the back so the correct question and answer nails are connected. Once your child has completed please post and share using #myeducratelight for a chance to be this month's winner.

Review Highlights:
As an educator, I loved that this month's box was STEM related. The kit tied science, electrical engineering,critical thinking, and language arts together. Additionally, kids learned to follow sequential directions, understand cause and effect, and exercise reason. This month's book selection allows kids to not only practice reading skills, but also introduces the biography genre, as well as the character trait of perseverance.
I love that the box contained multiple items, allowing a parent or homeschooling parent to create a "mini unit" on the topic - in this case, electricity. The items allowed for learning across the curriculum. As a homeschooler, finding ready-to-use STEM activities is often difficult - especially for more literacy minded adults. I loved that this kit gave me everything I needed to introduce my kids to engaging STEM activities that I wouldn't have been able to put together on my own. The kit provided me with the tools and instructions to "spark" an interest in electricity for my children.
Wow! My son and I were completely blown away by My Educrate's, The Path to EnLIGHTenment. We received the box in the mail and became very excited about what was inside. I had told him something was coming and I wasn't even sure what it was. This really builds the suspense. He loves science and is quite the inquisitive one, so I figured he'd love it. We read the cool letter that introduced what each activity was going to be and then started taking everything out of the box. He picked up the book, thumbed through it, then saw the Human Powered Light Bulb. We decided to start with that one. We read the directions on the back and began walking around the house while dragging our feet. Then it happened, Wah-La! It worked! This brought up a great conversation about static electricity and he made the connection with balloons and hair. He then grabbed the book and started reading.
Buy this product at:
As an Amazon Associate we earn from qualifying purchases.