Academics' Choice Award™ Winner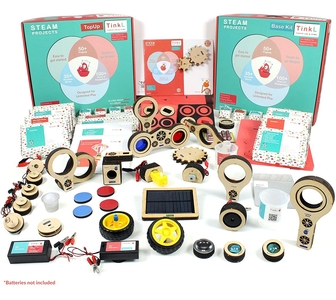 Tinker Lab@Home
Ages: 7 and up
Price: $149.00 USD
Type: Toy, Arts & Crafts, Gear & Equipment, Electronics
By
Butterfly EduFields Private Limited
Description
MAKE YOUR OWN TOYS - 100+ Creative Projects - Electric powered Car, Walking Robot, Catapult Shooter, Gun, Electronic Sensor Water Alarm system, Wooden Gears, Geared Motor Car, Squishy electric Circuits, Monster trucks, Drawing Robots, Stunt Racing Cars, Exciting Electric Circuits, Hydraulic Shooter Gun, Chemistry Physics Biology Experiments, Submarines to Drones, Walking Robot etc with the Tinker Lab @Home kit - Help your kids convert their idea to prototype in just 5 Min!

TINKERING made FUN and EASY! - Play time just got more fun and experimental! BUILDING BLOCKS to unleash the Creativity of your child !

Build "I Can" creative confidence & give wings to your Imagination!! STEM LEARNING Educational ENGINEERING Gift Set for Kids (TINKER LAB @ HOME) - Open-ended Experimenting Platform for your Budding Innovator to dream BIG.

Be a DOER!! Create a place in your home where you actually can go from Inspiration, Idea to Solutions & Making Things.

Move from Idea to Prototype in just 5 mins!!
Ideas, Materials, Templates & Mechanisms to start, we have got them all covered... Join your kids on their adventures - You Create, we facilitate


Review Highlights:
The materials are high quality. Everything is very well organized. The kits come with everything you need to make more than 60 different projects. The pieces are exciting. It is fun to dream about all the different things you can make with them, and all you can learn about science, physics, and engineering from working on the projects. We experimented with making a fan, and a small vacuum cleaner. The projects have a lot of "wow" factor to them. Making them and getting them to work will definitely impress your family and friends. I also like that the projects require a little bit of trial and error. My daughter was a little bit frustrated that she couldn't just put the pieces together and have a working project, but I saw how good it was for her to be challenged to problem solve and work to figure out where she had missed a step or put a piece in the wrong way.
Your child will enjoy making over 60 different projects, from the funky Walking Bot to the cool Water Alarm. Unlike other science and craft kits that are popular right now, with Tinker Lab @ Home, you do not use up the supplies and you can use the parts in many different ways again and again.
The supplied videos make it super easy for kids to do these educational, creative projects, but the reusable parts also make it fun for open-ended play. As a parent, you will like that your kids are learning about force, electricity, buoyancy, waves, magnets, gravity and more science concepts without much needed help from you. The Tinker Lab@Home is perfect for homeschoolers (especially tweens) or any kids who enjoy tinkering around.
This is a high quality project. We used it on a rainy day, and were entertained for several hours. We can use it again and again and, once we have mastered the concepts, can even try to come up with our own inventions and creative projects. For anyone trying to provide their young people with STEM experiences, this literally has everything you need for over 50 projects. No more hunting through craft stores or searching your home for that one random item that the project requires that seems impossible to find.
Children practice problem-solving, following directions, ingenuity, creativity, analysis, diagnosis, investigation, innovation, experimentation, logic, and more!
Buy this product at:
As an Amazon Associate we earn from qualifying purchases.