Academics' Choice Award™ Winner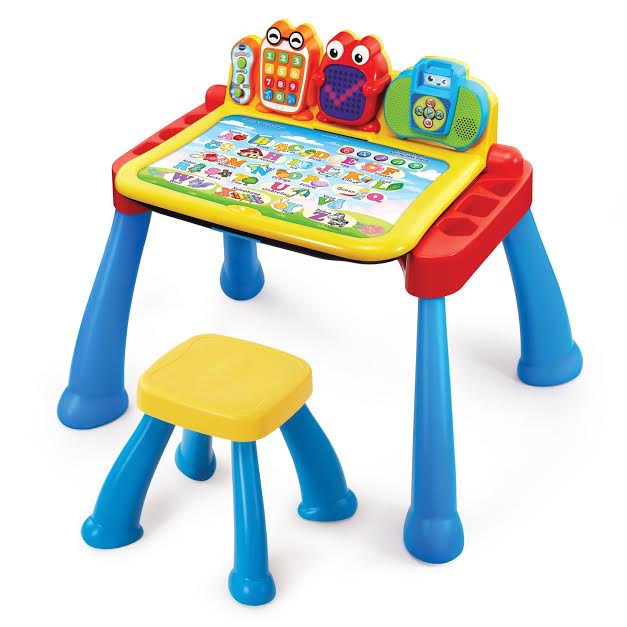 Touch & Learn Activity Desk™ Deluxe
Ages: 3 - 5
Price: $54.99
Type: Toy, Arts & Crafts, Gear & Equipment
By
VTech
Description
The Touch & Learn Activity Desk™ Deluxe by VTech® is a three-in-one desk with interactive activity cards that's expandable for more fun and discovery! The desk features an interactive desktop and five pages to explore that are filled with engaging content including letters, numbers, music, colors and more. Choose from eight expansion packs (each sold separately) that each focus on a specific curriculum like nursery rhymes, reading skills, animals and numbers. It also transforms from a desk into an easel and chalkboard with plenty of storage space for art supplies to encourage play and discovery. The LED display illustrates letter and number stroke order and how to draw basic shapes. For even more fun, your toddler can play with the toy telephone or listen to fun tunes on the music player. Enjoy hours of fun as you create, discover and learn!

Features:
Interactive desktop with four additional activity pages
Expansion packs available (each sold separately)
Transforms from a desk into an easel and chalkboard
100+ vocabulary words, 20+ activities and 20+ songs and melodies
LED display illustrates letters, numbers and shapes
Features a toy telephone and music player
Progress Button reports on child's progress
Stool included


Review Highlights:
For a single product, this toy teaches a broad range of topics. Kids learn about farm animals, the ocean, map reading, telling time, daily routines with nine interactive touch pages. The desk also opens up to create an easel and chalkboard, so kids can be creative by drawing and practicing skills developed by the interactive desk unit, like letter- and number-writing. Kids will access both sides of their brains when they practice using numbers and map reading and also use the music player and hear familiar melodies.
I like that the product is not just electronic. The desk flips up to create and easel and a chalkboard. Kids have the opportunity for free and creative drawing and play without the flashing lights and music. My daughter loves to play school and the chalkboard and easel gives her a place to teach her "class" just like her real teacher. I like that she has the opportunity to practice letters, number, telling time and other basic preschool and kindergarten skills but also an opportunity to be creative and imaginative in her play. I also appreciate that this product comes with a chair so the child feels just like a grown-up sitting at his/her own desk just like mommy and daddy.
The VTech Touch & Learn Activity Deluxe Desk gives children 2 years and up the opportunity to practice their letters, numbers, colors, foods, body parts, and common clothing items. There is also a fun activity sheet that allows the children to gain a little bit of music exposure--including exposure to a variety of instruments and what they sound like.
The VTech Touch & Learn Activity Desk has a wide range of activities to choose from. The board comes with 5 activity pages that teach a variety of concepts ranging from letters and numbers to fruits and colors. In addition to listening to the name of each letter, number, or item, within each of the pages, there is the opportunity for the child to choose to play problem solving games, answer questions related to the card, and watch how the letter or number is written. VTech has made the Touch & Learn Activity Desk an even greater value for parents with the ability to purchase and use expansion packs with the desk. The music board is very engaging for young children. It allows a good range of creativity for them to create fun music of their own. They gain exposure to pressing keys with their fingers, much like you would do on a piano.
Buy this product at:
As an Amazon Associate we earn from qualifying purchases.