Academics' Choice Award™ Winner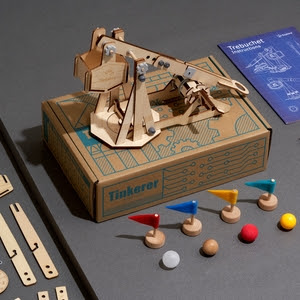 Trebuchet
Ages: 9 - 12
Price: $33.00 USD/mo. Subscription | Also available individually
Type: Toy, Arts & Crafts
By
Tinkerer
Description
Tinkerer offers STEAM activities for curious minds. In our Explore box Trebuchet, you will construct and experiment with the Trebuchet. Fling objects across the room, track their trajectories and keep records of the variations you have made to assess your data. Learn about the transfer of potential energy to kinetic energy and discover the science behind the Trebuchet in the magazine.



Review Highlights:
My 5th grader and I just loved the Trebuchet. He wanted to start building right when we received it. I let him try to do this himself while I read through some history of the trebuchet. We learned that a Trebuchet is a kind of a catapult - not just another word for a catapult. We also learned that it all began in ancient China, then the idea moved to Europe, and finally to the Middle East where they used gravity instead of tension before releasing. This is a wonderful educational product to either supplement your child's curriculum or to just have fun with. If your child is a budding engineer, this educational toy is for you!
We learned about gravity, pulleys, and engineering. It's a great STEM project. It supports and meets the Engineering Design standard in the Next Generation Science Standards (NGSS).
I enjoyed the opportunity to review this STEM product. I'm sure my 6th and 7th-grade students would be fully engaged as well. In history, the students always love to learn about catapults and other weapons used in the middle ages, so this would be a hit. It was fun putting it all together. My son was able to find a video to reference for the construction process which made it all that easier. We both give it a thumbs up!
We loved the fact that it was all about building something useful.
Buy this product at:
As an Amazon Associate we earn from qualifying purchases.