Academics' Choice Award™ Winner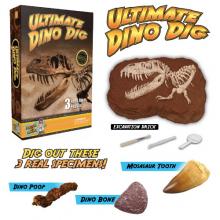 Ultimate Dino Dig Kit
Ages: 6 - 12
Price: $19.95
Type: Hands-On Toy
By
Discover with Dr. Cool
Description
Excavate a genuine dinosaur tooth, bone and fossilized dino dung specimen with this hands-on dig kit. Kit includes digging tool, brush and magnifying glass & is a great way to start a rock or fossil collection. Also buried in the digging brick is a T-Rex skeleton that must be excavated and assembled.
Review Highlights:
This kit was intended mainly for my 6 year old. However, the kit drew the interest of my 13 year old and my 16 year old. All three were working cooperatively to excavate the fossils and replica skeleton pieces (don't see that sort of cooperation every day). I like the fact that the kit actually takes a while to complete—it works on persistence and patience, as well as being careful, and paying attention to things. I was so pleased that the kids were so engrossed with it. It really brings the concept of archeology/paleontology to life. I was happy that there were actual "Fossil" artifacts included in the kit, in addition to the replica. I would definitely recommend this kit for anyone studying Ancient History, or as an introduction to the sciences of Archeology/Paleontology, or anyone whose kids are intrigued with dinosaurs.
My son loved this but the clay made a huge mess. This is best done outside!
I am a certified teacher, but I am currently a stay-at-home mom. I am always looking for products like this to do with my kids, as a teaching tool, to go along with my at-home lessons with them. This is a great product because after learning about Dinosaurs, they can get hands on with this kit and do it themselves and a reasonable price. My kids had a blast and were smiling the entire time! Great product, I would highly recommend this to others.
Buy this product at:
As an Amazon Associate we earn from qualifying purchases.