Academics' Choice Award™ Winner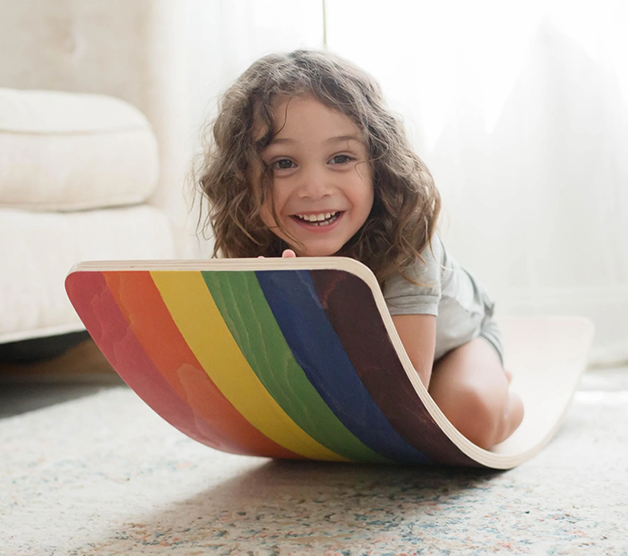 Wobble Board
Ages: 18 months and up
Price: $159.00 USD
Type: Toy
By
Bunny Hopkins
Description
Bunny Hopkins™ Wobble Board - Rainbow is vibrant like a rainbow in the sky, this happy vibe wobble board nurtures a child's innovative spirit with hours of active play.

Handmade in the USA with Natural & Sustainable Materials
Each Wobble Board is handmade by Bunny Hopkins craftsmen in our workshop in Atlanta, Georgia, USA. Made of Sustainably sourced American Maple Wood and zero VOC child-safe materials.

Promotes Child Development through Creative and Active Play

Our purposefully designed Wobble Boards stimulate children's curiosity and allow them to become engrossed in their own imagination. This amazing toy fosters creativity, promotes active physical play, boosts confidence, develops cognitive skills, and improves gross motor skills. Our open-ended designs allow children to enjoy fun and free play — the freedom to invent and discover, fostering talent in a relaxed way.


Review Highlights:
A beautifully-crafted children's product that is designed to be used over and over again. The Wobble Board from Bunny Hopkins gives children an opportunity to improve their coordination and balancing skills, encourages active play and physical activity, and allows children to engage in free play. There are many ways children can use this product in their play, such as for a bridge to cross over into a magical world, a boat (paired with a blue blanket underneath for the "ocean") to sail across the seven seas, a surfboard riding the waves with dolphins, and so much more!
Have you ever bought your child that electronic toy with all of the buttons, noises, songs, bells, and whistles that seemed exciting, but they ended up having more fun with the cardboard box it came from? I've learned that some of the best toys are the simplest ones, which is why we love our wobble board. They come in anything from a simple wood design to multicolor, solid colors, and rainbow stripes. Your child will surprise you with how much use they get from this simple yet entertaining wooden toy.
Promotes open-ended creative play, physical activity, and balance!
First, I have to comment on how beautifully designed and made this balance board is. In a world where parents are understanding the value and importance of free and active play, and the quality and safety of wooden toys, the market is seeing more and more wooden balance boards. The balance board by Bunny Hopkins stands out with its joyful coloring and craftsmanship. This is an excellent choice for any family who values Waldorf-, free-, active- and creative-play.
This product inspires creativity, physical play, boosts confidence, and develops sensorimotor and preoperational cognitive skills. Children practice their balance, coordination, spatial thinking and awareness, stretch their imaginations, and much more.
Buy this product at:
As an Amazon Associate we earn from qualifying purchases.